Manufacturers must identify hazards, define preventive controls to eliminate or reduce hazards, and determine process parameters for these controls. Then, they must implement and continue to monitor the process to ensure corrective actions are taken and to verify the system is working properly. It's not just good for business; it's a government regulation, specifically the Food Safety Modernization Act (FSMA) Preventive Controls (PC) rule.
Hazards can be biological, chemical (including radiological) and physical. Physical hazards that need to be addressed include bone, stone, metal fragments, wood, glass and plastic, among others. Preventive controls for physical hazards often include metal detectors and X-ray detection and inspection systems.
But how does this equipment work? How are those physical contaminants found? How do you ensure you have the latest food quality control technology?
Metal detectors find small particles of nonferrous and stainless steel using coils wound on a nonmetallic frame and connected to a high-frequency radio transmitter. When a particle of metal passes through the coils of a metal detector, the high-frequency field is disturbed under one coil, changing the voltage by a few microvolts. The output is used to detect metal. Multiple transmit coils can be configured to yield a more effective magnetic field and much improved sensitivity so that metal spheres up to 20% smaller in diameter can be detected reliably. Below is an illustration of a typical metal detector coil system.

X-ray inspection systems are based on the density of the product and the contaminant. X-rays are simply light waves that we can't see. X-rays have a very short wavelength, which corresponds to very high energy. As an X-ray penetrates a food product, it loses some of its energy. A dense area, such as a contaminant, will reduce the energy even further. As the X-ray exits the product, it reaches a sensor. The sensor then converts the energy signal into an image of the interior of the food product.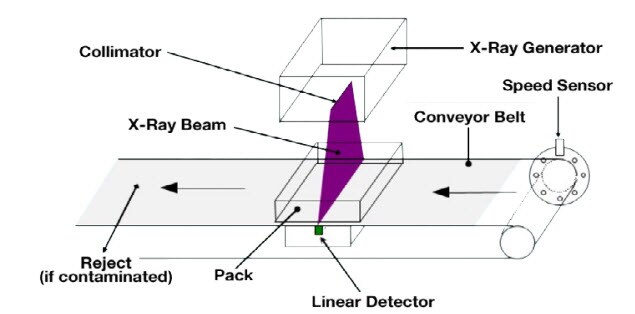 Foreign matter appears as a darker shade of grey and helps identify foreign contaminants, like the stone in the pickle jar in the photo below.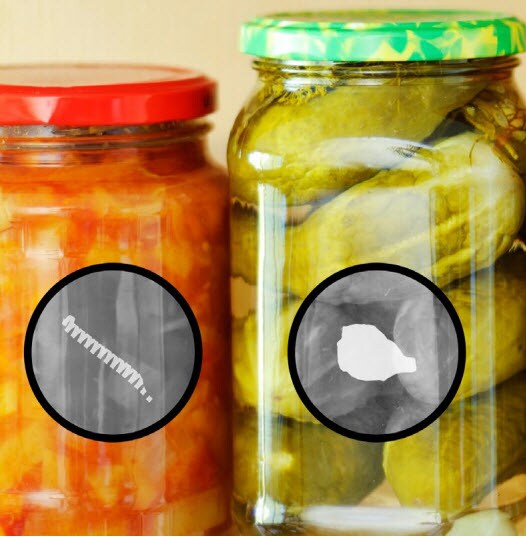 This, of course, is just a simple explanation of how a highly complex technology works. If you want to learn more about what food manufacturers and processors need to know about keeping consumers, and their brand, safe, then download our free e-book, A Practical Guide to Metal Detection and X-ray Inspection of Foods. It is an easy-to-read overview of contaminant detection in the food industry that addresses regulatory compliance and recalls resulting from physical contamination threats, gives descriptions of the types of equipment that are available, outlines factors to consider when choosing equipment, and suggests best practices for certain food applications.
This book is a handy guide to share with your quality assurance team and manufacturing managers, and it stresses the importance of shipping a quality packaged product out the door. If you'd like more information, download the e-book, A Practical Guide to Metal Detection and X-ray Inspection of Food, and find almost everything you need to know about metal detection and X-ray inspection of packaged foods.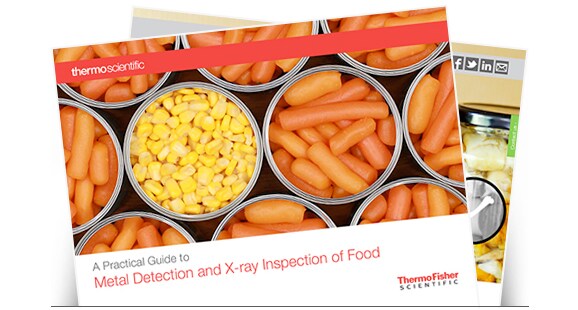 Download now:
A Practical Guide to Metal Detection and X-ray Inspection of Food