Vitamin C, limonoids,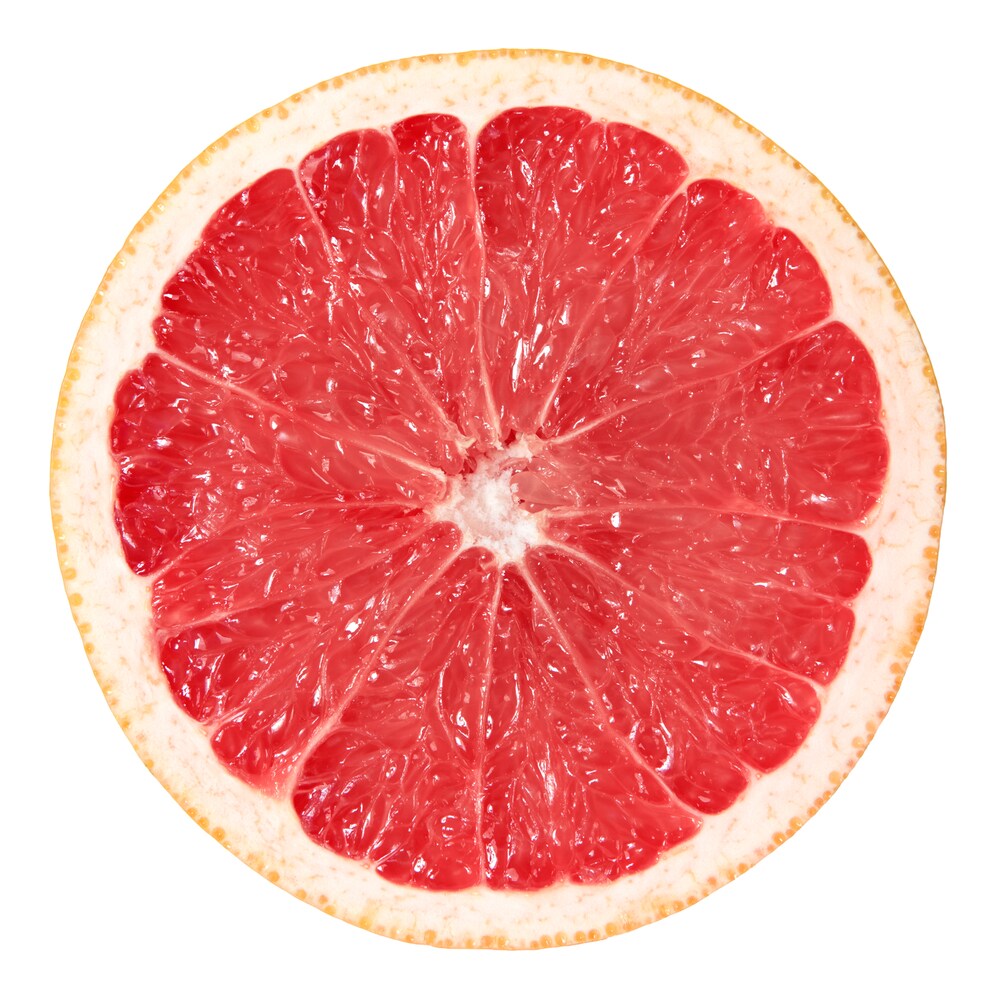 flavonoids, β-carotene, and lycopene (pink and red varieties) are all found in grapefruit. Researchers have determined that some of the health benefits of these components include a decrease in the risk of developing colon cancer1 and cardiovascular disease.2
Another group of components found in grapefruit juice, furanocoumarins, are known to interfere with a variety of prescription medications, such calcium channel blockers, statins, benzodiazepines, antihistamines, and immunosuppressants.3 Furanocoumarins can cause trouble by inhibiting intestinal cytochrome P450 enzymes, especially CYP3A4. This can lead to an increase in the bioavailability of these drugs and the potential for overdosing. Researchers have identified 6′,7′-dihydroxybergamottin (DHBMT), bergaptol (BT), bergamottin (BMT), 6′,7′-epoxybergamottin, and several furanocoumarin dimers, commonly known as paridisins in grapefruit.4
In their present study, a team of researchers sought to characterize furanocoumarin metabolites using a mass spectrometry approach.5 Five male volunteers between the ages of 20 and 35 drank 250 mL of freshly prepared orange, lemon, and grapefruit juices. Afterwards, researchers analyzed their urine for furanocoumarin metabolites.
Two of the volunteers drank a large volume (1 L) of grapefruit juice and their urine samples were pooled together for analysis. The researchers used ultra-performance liquid chromatography coupled to a linear trap quadrupole-orbitrap mass spectrometer (LTQ-Orbitrap Velos) equipped with an electrospray ionization source (Thermo Scientific) to determine the chemical structure of the main metabolites present in the samples.
Using solid-phase extraction, ultra-performance liquid chromatography, and a triple quadrupole-tandem mass spectrometry, the researchers were able to quantify BT metabolites present in the urine samples. The concentrations of the remaining metabolites were estimated as equivalents of BT, which provided semi-quantitative information about their levels in urine.
A previous study proposed BT glucuronide and sulfate (BT-glcU and BT-SO3, respectively) as the most prolific furanocoumarin metabolites, with a lesser amount existing as free BT. They also did not find evidence of DHBMT present. Unlike previous work, the mass spectrometry approach used by Regueiro et al., identified the glucuronide metabolite of DHBMT, as well as the depronated molecule of DHBMT. They also identified glucuronides of a hydroxybergamottin-like compound in addition to the main furanocoumarins present, BT-glcU BT-SO3, and free BT.
Based on the urine analysis, furanocoumarins were only present in grapefruit juice, and not in the other citrus juices given to the volunteers. As indicated with the study by Girennavar et al.4, the concentration of BT had a wide range of variability. Regueiro et al. determined the concentration of BT was between 382 and 2670 ng/mL. BT-glcU had a median concentration around 33 μg/mL. BT-SO3 and DHBMT-glcU were also found at concentrations within the same range. The hydroxybergamottin glucuronides were the least abundant conjugates, with a median concentration of 621 ng/mL.
Regueiro et al. has reported that their mass spectrometry approach used in identifying furanocoumarin metabolites was the first of its kind. They further suggest that this work has the potential to give rise to future research involving dietary interactions with furanocoumarins and establishing biomarkers of grapefruit juice consumption.
References
1. Vanamala, J. et al. (2006) "Suppression of colon carcinogenesis by bioactive compounds in grapefruit." Carcinogenesis, 27(6), (pp.1257-65)
2. Gorinstein, S. et al. "Red grapefruit positively influences serum triglyceride level in patients suffering from coronary atherosclerosis: studies in vitro and in humans." Journal of Agricultural and Food Chemistry, 54(5), (pp. 1887-92)
3. Seden, K., et al (2010) "Grapefruit-drug interactions." Drugs, 70(18) (pp. 2373-407). doi: 10.2165/11585250-000000000-00000.
4. Girennavar, B., et al. (2005) "Furocoumarins from grapefruit juice and their effect on human CYP 3A4 and CYP 1B1 isoenzymes.", Bioorganic and Medicinal Chemistry, 14(8) (pp. 2606-12) Epub Dec 9.
5. Regueiro, J. et al. (2014) "Identification and quantification of grapefruit juice furanocoumarin metabolites in urine: an approach based on ultraperformance liquid chromatography coupled to linear ion trap-orbitrap mass spectrometry and solid-phase extraction coupled to ultraperformance liquid chromatography coupled to triple quadrupole-tandem mass spectrometry." Journal of Agricultural and Food Chemistry, 62(9), (pp. 2134-40). doi: 10.1021/jf405701a. Epub 2014 Feb 25.