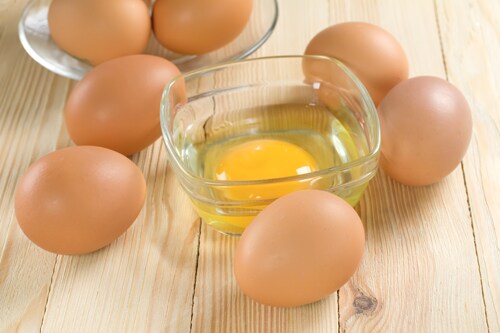 In a recent Microbial Update, microbiologist Roy Betts highlighted consumer safety and food quality issues associated with the consumption of eggs and egg products.1 According to the author, the major microbiological concerns for the food industry are contamination by Salmonella (and subsequent food-borne illness) and spoilage caused by the introduction of Gram-negative bacteria (Pseudomonas fluorescens, putida, and aeruginosa, Stenotrophomonas maltophilia, Aeromonas liquifaciens, Proteus vulgaris, Aerobacter spp.).
While the egg's structure offers considerable barrier to intrusion by microorganisms, Dr. Betts indicates three modes whereby egg contamination occurs: trans-ovarian infection, oviductal infection, and trans-shell infection.
According to the Centers for Disease Control and Prevention (CDC), Salmonella causes approximately one million cases of foodborne illness each year in the United States.2 Of these, about 19,000 require hospitalization, and 380 have fatal consequences. Most salmonellosis (diarrhea, fever, abdominal cramping) develops within 12 to 72 hours and persists four to seven days.
Table: Modes of Contamination
| | |
| --- | --- |
| Mode | Description |
| Trans-ovarian | Infection of the yolk in the ovary follicle, generally by blood-borne microbes |
| Oviductal | Infection of the albumen as the egg moves along the oviduct, generally by microbes found in the bird's vascular system, cloaca, or introduced during artificial insemination. |
| Trans-shell | Post-laying infection through the shell pores as a result of contact with dust, fecal material, and environmental agents |
Dr. Betts indicates that the likely causes of Salmonella contamination are trans-ovarian and trans-shell infection. The first mode requires that laying birds receive appropriate veterinary care and vaccination to ensure they are free of Salmonella. Indeed, in the years since the United Kingdom initiated a vaccination program, officials witnessed a three-fold reduction in egg contamination by Salmonella. In terms of human impact, this means that the incidence of the foodborne illness salmonellosis decreased from approximately 40,000 cases in 1990 to around 8,000 cases in 2012 (and projected to be even lower in 2013). The second transmission mode requires hygienic laying areas (particularly since the length of the exposure to contaminants correlates with likelihood of internal infection) and careful washing practices (since cold water can create a vacuum that draws microorganisms into the egg).
Finally, the author highlights the importance of adhering to strictly regimented protocols for the pasteurization of egg products (liquid or powdered egg) used for commercial production. He indicates that pasteurization guidelines vary by country and must take into account significant variables- like the fact that the pH of egg albumen varies with egg age and that additives like salt and sugar can impact microbial heat resistance. He offers a general guideline of pasteurizing whole liquid egg to temperatures between 60°C and 65°C for 2.5 to 3.5 minutes, which should be sufficient to reduce Salmonella loads by 4 to 5 log.
Industry professionals can rely on detection methods like the Salmonella Precis method and SureTect™ Salmonella Species PCR Assay method (all Thermo Scientific) to identify contamination, even in complex food matrices. Together with appropriate animal care, hygiene practices, and proper pasteurization, these tools can assist in the reduction of outbreaks of foodborne illness, a significant concern for both consumer safety and food quality measures.
Learn more about solutions for Salmonella testing in eggs and poultry from farm to fork.

References

1 Betts, R. 'Microbial Update: Eggs & Egg Products.' International Food Hygiene 25 (4): 10-11.
2 Centers for Disease Control and Prevention (2015) 'Salmonella Homepage.' http://www.cdc.gov/salmonella/index.html