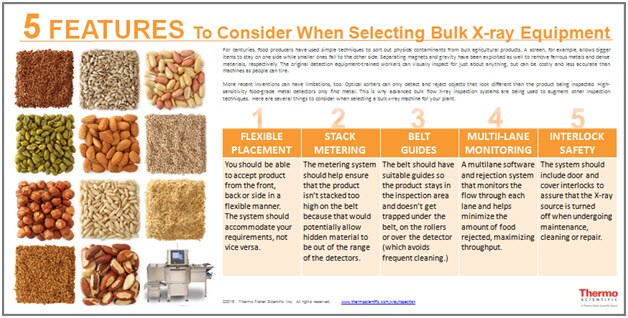 For centuries, food producers have used simple techniques to sort out physical contaminants from bulk agricultural products. A screen, for example, allows bigger items to stay on one side while smaller ones fall to the other side. Separating magnets and gravity have been exploited as well to remove ferrous metals and dense materials, respectively. The original detection equipment-trained workers can visually inspect for just about anything, but can be costly and less accurate than machines as people can tire.
More recent inventions can have limitations, too. Optical sorters can only detect and reject objects that look different than the product being inspected. High-sensitivity food-grade metal detectors only find metal. This is why advanced bulk flow X-ray inspection systems are being used to augment other inspection techniques.
Take a look at this infographic and study the five features to consider when selecting a bulk x-ray machine for your plant.