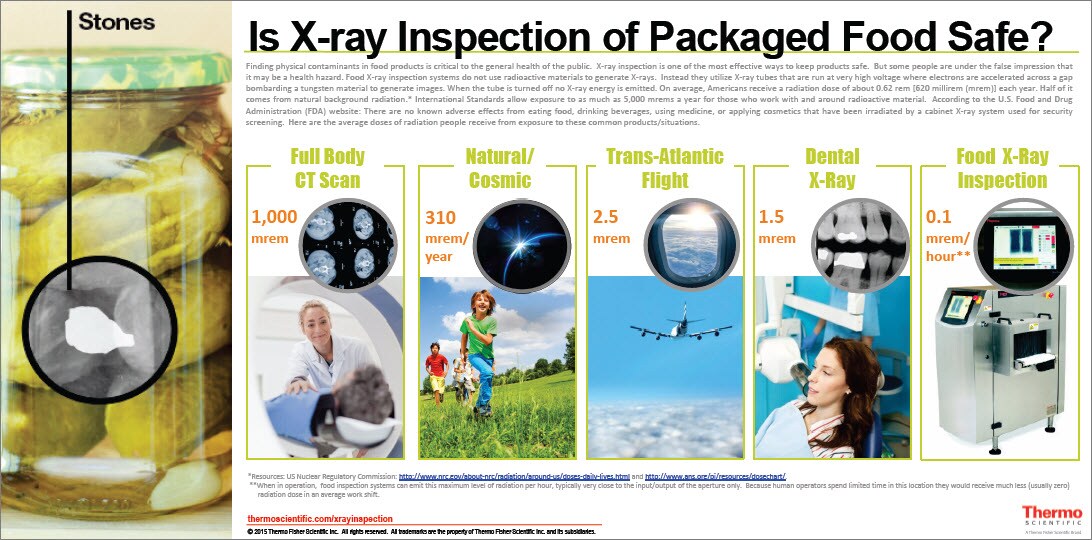 Finding physical contaminants in food products is critical to the general health of the public. X-ray inspection is one of the most effective ways to keep products safe. But some people are under the false impression that it may be a health hazard.
Food X-ray inspection systems do not use radioactive materials to generate X-rays. Instead they use X-ray tubes that are run at very high voltage where electrons are accelerated across a gap bombarding a tungsten material to generate images. When the tube is turned off no X-ray energy is emitted.
On average, Americans receive a radiation dose of about 0.62 rem [620 millirem (mrem)] each year. Half of it comes from natural background radiation.* International Standards allow exposure to as much as 5,000 mrems a year for those who work with and around radioactive material. According to the U.S. Food and Drug Administration (FDA) website: There are no known adverse effects from eating food, drinking beverages, using medicine, or applying cosmetics that have been irradiated by a cabinet X-ray system used for security screening.
Take a look at this infographic and get a quick glimpse at the average doses of radiation people receive from exposure to common products/situations.
*Resources: US Nuclear Regulatory Commission: http://www.nrc.gov/about-nrc/radiation/around-us/doses-daily-lives.html and http://www.ans.org/pi/resources/dosechart/.