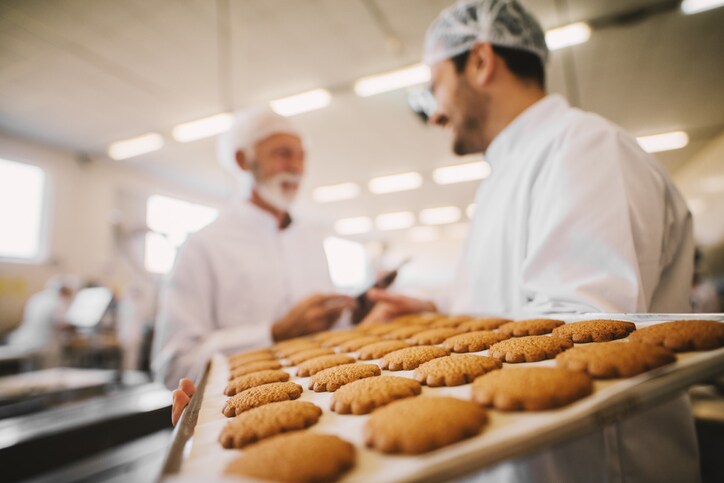 The online news site, Snack Food & Whole Bakery, started the year with a very informative article about X-ray, metal detection, checkweighing and vision systems that help processors ensure food safety in their packaged products. In the article, Inspection and detection equipment reach new levels of flexibility for peak food safety, author Neal Lorenzi discusses new technologies such as multiscan, multi-orientation, and multi-spectrum metal detection.
Metal detectors that are equipped with Multiscan technology enable operators to pick a set of up to five frequencies from 50 kHz to 1000 kHz. The technology then scans through each frequency at a very rapid rate. Running five frequencies helps to get the machine close to ideal for any type of metal you might encounter. Sensitivity is optimized, as you also have the optimal frequency running for each type of metal of concern. The result is that the probability of detection goes up exponentially and escapes are reduced.
Lorenzi also believes X-ray technology has "matured and broadened its footprint in the snack and bakery industry." He explains that many of the x-ray inspection equipment options are designed for convenience foods and foods in metalized packaging. We previously wrote about this subject in Keeping "Snacks Nation" Safe, which explained that unlike metal detectors that offer protection from many types of metal contaminants encountered in food production, X-ray systems can 'ignore' the packaging and find virtually any substance that is denser or sharper than the object containing it. (For details about which method is best to aid your food safety program, read X-ray Inspection vs. Metal Detection.)
Combining different technologies is another way food processors are enhancing food safety. Using metal detection early in the process, to screen out the most-common contaminants prior to adding value, and then placing X-ray at the end of the line as the final critical control point looking for any type of dense foreign object, including metal, is a smart choice. In addition, there are x-ray inspection systems that include checkweighing technology in order to catch over/underweight products before they get shipped out the door.
With different types of packaging for different types of baked goods and snacks, including metallized film, deciding what kind of technology to use and where in the plant it is needed can be a challenge. That's why we've developed a library of resources to help manufacturers of snacks and baked goods ensure a quality product gets into the hands of the consumer. Visit the Food Safety Inspection of Baked Goods and Snacks section of our website to access free ebooks, white papers, infographics, frequently asked questions and answers, and videos about packaged food inspection of baked goods and snacks.
The article discussed other insights from experts in the field, and talked about trends that would be seen in the new year. However, there's one trend that will never go away… keeping snacks and baked goods free from physical contaminants before they reach the customer's hands.
Download free materials from the Food Safety Inspection of Baked Goods and Snacks Resource Library