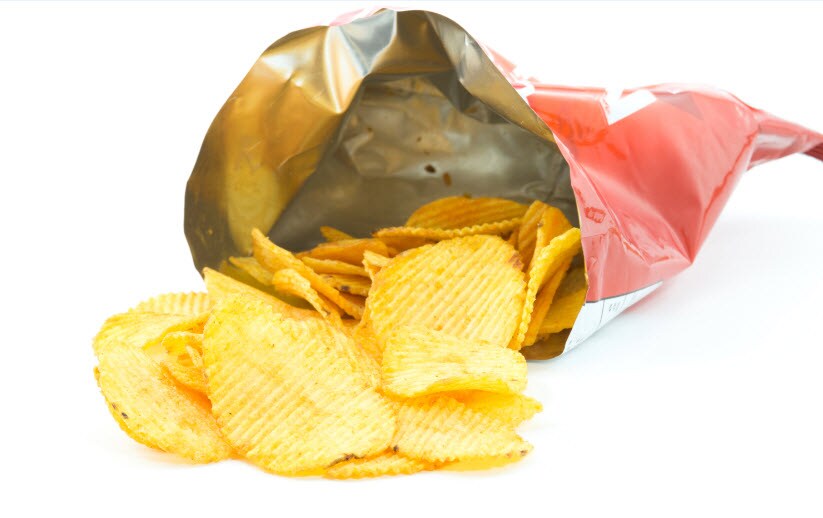 Common package types for snack foods including chips, crackers, bars, pretzels, nuts and others is a metalized material that is automatically formed into a bag and has heat seals on either end. Folding cartons, composite cans, flexible material laminations and other packaging alternatives are also found in the snack foods category.
Although most snack foods don't have the product effect issues found in baked items (like warm, moist, and dough stages), spotting contaminants in metalized film that uses a vertical form-fill-seal (VFFS) machine or flow wrapper is a challenge. According to the Institute of Food Technologists, Metallized films are plastics containing a thin layer of aluminum metal…. These films have improved barrier properties to moisture, oils, air, and odors, and the highly reflective surface of the aluminum is attractive to consumers.
While these types of food packaging products are great for keeping out contaminants, they're not good candidates for inspection using metal detectors. Metal detectors use high frequency radio signals (50 – 700 KHz) to detect the presence of metal in food or other products. A digital signal processing system analyzes certain signals and sends an alert if metal is present and could cause a food hazard or safety issue.
Even with drop-through metal detection technology, there typically is not enough room in the VFFS machine to mount a reject mechanism. Therefore, there is no easy way to reject a single product. (A possible work around is to give a signal to the bagger to make a double bag when a contaminant is found. The double bag, coupled with an audio alarm, signals the person packing the case that there has been a metal hit.)
With these process and material obstacles in place, X-ray equipment is the better solution to address snack food inspection challenges. X-ray systems produce density images that are analyzed for irregularities. X-ray inspection is one of the first lines of defense to identify the presence of foreign contaminants in food products before they have the chance to leave the processing plant. Unlike metal detectors that offer protection from many types of metal contaminants encountered in food production, X-ray systems can 'ignore' the packaging and find virtually any substance that is denser or sharper than the object containing it.
Additionally, in the case of bars and other similar snack products, X-ray inspection can be used for spotting missing or broken pieces.
For more information, read the Market Insights And Solutions About Packaged Baked Goods & Snack Products white paper and visit our Food Community site.