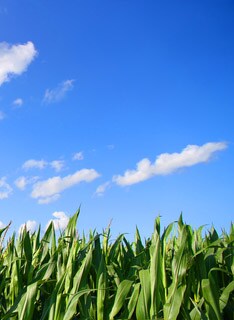 When fuel is processed, whole corn is ground and fermented to produce ethanol and a nutrient rich byproduct suitable for use as an alternative food source for ruminant livestock. This feed, or distillers grains, is three times as nutrient dense as grain alone and provides the energy, fat, and protein necessary for healthy animals. However, the specific nutritional profile of the feed varies with each batch of ethanol produced.
In fact, researchers have established that the coefficient of variation for the mineral content of distillers grains is as high as 25 percent due to variables in the corn itself, the fermentation process, drying times/temperatures, and processing equipment. The ability to simply and accurately test the nutritional composition of dry distillers grains with solubles (DDGS) could prevent costly nutrient deficiencies or mineral excesses that may damage livestock, the distillers grains industry, and the environment. For this reason, the development of a reliable testing protocol that can be easily accessed by distillers and feed suppliers is imperative
Researchers recently created and evaluated two methods for feed testing that meet the industry standard for accuracy, reproducibility, and simplicity. The first method uses extraction, centrifugation, and dilution of chloride, sulfate, and phosphate prior to injection into Dionex ICS-2100 Integrated Reagent-Free Ion Chromatography System equipped with 2 x 250 mm ion exchange column. Data analysis is performed by Dionex Chromeleon software and allows to simply quantify peaks for all three anions. Overall, this method for feed testing is efficient, sensitive, and able to be performed in a ten minute time frame.
The second method relies upon Dionex ICS-5000 technology to analyze inositol phosphates on a 4 x 250 mm column followed by UV detection. Again Dionex Chromeleon software is utilized to detect and quantify peaks of 25 individual isomers in under 42 minutes. This method is efficient and reliable for the analysis of phytate hydrolysis products.
Together, these two methods may provide distillers, feed suppliers, and even interested livestock owners with the tools to test the nutritional content of DDGS-sourced feed with simplicity and accuracy. Since the demand for this feed source continues to climb after exceeding 29.4 million metric tons in 2011, these methods represent a timely response to a growing need that impacts not only two important industries but also the environment at large.
To read the full application note, please follow the link: http://www.dionex.com/en-us/webdocs/114274-PN-IC-Anions-DDGS-PN70580_E.pdf. Let us know if you found this interesting, and feel free to forward to a colleague.