Listeria
has increased from 6 species to 17, with new species defined using a combination of phenotypic and genotypic characteristics. However, with taxonomy being such a dynamic system and the technology used for identification of species always changing, how can we keep on top of what exactly our standard reference methods should be detecting?
Reference methods for the detection of Listeria species from food samples require a combination of selective broths and agars to be used over a number of days before the presence of any Listeria can be ruled out. These methods were developed in the knowledge that there were six Listeria species (L. monocytogenes, L. ivanovii, L. innocua, L. seeligeri, L. welshimeri and L. grayi), but are they suitable for the detection of all newly proposed species?
Only 2 of the total 17 species have been identified to be pathogenic: L. monocytogenes is a human pathogen and L. ivanovii is an animal pathogen. So why do we need methods for the detection of all other Listeria species? The answer is in the phenotypic traits that the different species share; if other Listeria are able to grow, there is potential that conditions are being met that would support growth of L. monocytogenes. Presence of other species may be an indicator that the risk of L. monocytogenes presence is high, and action should be taken to eliminate those risks where practicable. So, if we look at the whole genus Listeria, can we use their relatedness to L. monocytogenes to understand which species may have the biggest impact on public health?
Literature describes Listeria as being split into two categories based upon phenotypic and genotypic characteristics. These categories are sensu stricto ("strictly speaking"), which includes L. monocytogenes, and sensu lato ("broadly speaking"), which includes most of the recently identified species.1,2 The table below displays the major phenotypic differences between the sensu stricto and sensu lato groups of Listeria, including the proposed names of three new genera that behave differently than the Listeria species that we have become familiar with pre-2009.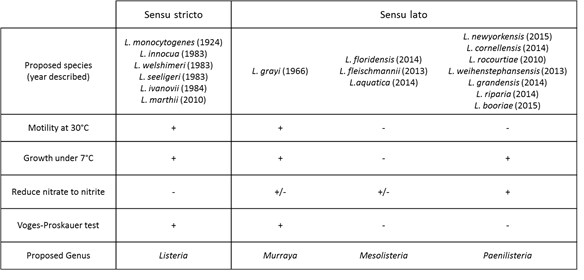 Table: Phenotypic differences between the classic Listeria and newly proposed genera (modified from Orsi and Wiedmann 2016)

Clarity is still required for understanding whether or not the sensu lato Listeria should be detected by reference methods, and the phenotypic differences detailed in the table above may help us make that decision. For example, if the growth of Listeria below 7°C is a key factor in evaluating the risk of the presence of L. monocytogenes, arguably a reference method does not need to detect the proposed Mesolisteria, as they are unable to grow under these conditions. As we become more familiar with these species, using genotype as well as phenotype to define the genus Listeria with maximum clarity, international reference methods will likely become modified to clearly identify which species should be detected and which should not.

But how will we know what decision is made and when? The official record of novel bacterial taxa is compiled by the International Journal of Systematic and Evolutionary Microbiology, a publication that records all of the details linked with each newly proposed species, including the taxonomic criteria used for their classification. As decisions are made concerning the classification of the genus Listeria, we can expect to see them reviewed and published here with reference methods updated to match the understanding of the modernized taxonomy accordingly.

We'd love to hear from the scientific community: How are these proposed taxonomic changes affecting food producers and testing laboratories? What factors will you be considering when selecting methods to detect and track Listeria in the future?

References

1. Chiara, M., et al (2015) "Comparative genomics of Listeria sensu lato: Genus-wide differences in evolutionary dynamics and the progressive gain of complex, potentially pathogenicity-related traits through lateral gene transfer," Genome and Biology Evolution, 7(8) (pp. 2154–2172).

2. Orsi, R.H. & Wiedmann, M. (2016) "Characteristics and distribution of Listeria spp., including Listeria species newly described since 2009," Applied Microbiology and Biotechnology, 100(2) (pp. 5273–5287).

Related articles on Examining Food

Congratulations! It's a Bacterium – The Genus Listeria Just Got Five Species Bigger

A User-Friendly PCR Method for the Detection of Listeria monocytogenes

If memorizing all of the different methods for pathogen detection from food wasn't challenging enough, keeping up with bacterial taxonomic changes can make working in a food lab even harder. Since 2009 the genus