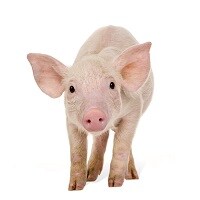 Agricultural producers are governed by legislation that prohibits or limits use of veterinary drugs in food-producing animals. In many countries, federal or regional laws restrict drug treatment, either by prohibiting use of certain classes or setting standard withdrawal times prior to slaughter. Other drugs are permissible but with limits set for amounts of residues found in animal tissues. These regulations prevent potentially harmful levels of residues from reaching the table and, therefore, monitoring of residue levels is common throughout the world. However, monitoring isn't always easy, as residue limits are often set at extremely low levels. Furthermore, scientists must be able to accurately identify and quantify these contaminants in a wide range of samples.
High resolution and accurate mass spectrometry (HRAM-MS) has gained popularity for analyzing low levels of analytes within complex matrices in recent years. Kumar and co-researchers1 present a paper detailing their work validating HRAM-MS approach in analysis of hormones using a Q Exactive mass spectrometer (Thermo Scientific) to comply with EU analytical method performance criteria described by directive EC/657/2002.
The researchers concentrated on analyzing levels of eight synthetic (trenbolone, 17α ethinylestradiol, zeranol, stanozolol, dienestrol, diethylstilbestrol, hexestrol, and taleranol) and one naturally occurring (zearalenone) hormone levels in animal urine, optimizing the HRAM-MS workflow to achieve accurate and reliable results.
Using commercial hormone preparations, the researchers optimized the analytical workflow through an Accela ultra high performance liquid chromatography unit (Thermo Scientific) coupled with the Q Exactive MS/MS. They investigated various MS parameters and data acquisition modes for each of the hormone preparations under analysis before selecting a targeted selected ion monitoring (tSIM) data dependent tandem MS (tSIM/ddMS/MS) approach. The selected approach resulted in a better signal to noise ratio compared to fullscan operation, thereby improving detection limits for low-abundance analytes.
This method also meant the precursor ion peak was available for quantification and the product ion peak for analyte confirmation, according to the EU directive specification.
When Kumar et al. analyzed urine samples spiked with the hormones using the tSIM/ddMS/MS data acquisition mode, they achieved extraction recoveries ranging from 65 to 87%, and correlation coefficients >0.99 for all analytes compared with the standard calibration curves. Assay detection and quantification limits were also within the useful ranges for food safety testing.
The authors conclude that HRMS using the Q Exactive MS in tSIM/ddMS/MS acquisition mode is a sensitive and robust method for measuring ultra-trace concentrations of hormones in the complex urine matrix. They consider it suitable for residue analysis in a food safety testing environment.
Further Information
New perspectives of accurate mass LC-MS in food control seminar taking place on March 18th, 2014 in Hamburg, Germany – main focus = HRMS in food safety
Reference
1. Kumara, P., et al. (2013) "Targeted analysis with benchtop quadrupole–orbitrap hybrid mass spectrometer: Application to determination of synthetic hormones in animal urine" Analytica Chimica Acta 780 (pp.65– 73) http://dx.doi.org/10.1016/j.aca.2013.04.017