The meat processing market requires the safe processing and packaging of meat products. And by safe, we mean safe from the following hazards:
biological contamination, like Salmonella, E Coli, or listeria
foreign object contamination, like metal, which can come from the inbound food supply or in-house processing faults
Avoiding foreign object contamination is an important meat processing requirement, crucial for protecting downstream equipment, consumer health, and the food processor's brand. It's also necessary to comply with food safety standards.
A second key market requirement is for reliable process automation, which can be achieved using equipment designed with a focus on meat processing. The equipment must meet performance requirements – like detecting small metal sizes – as well as cope with the environmental demands of a meat processing plant. An emerging demand, the equipment must also minimize touch-time for set-up, use and maintenance.
Product inspection equipment systems – including industrial food metal detectors and X-ray inspection systems — can help provide food manufacturers with the performance and service they need to detect foreign objects in food and thus improve the quality and safety of meat products. Ensuring the equipment meets these requirements is important as selecting the proper inspection solution will drive process efficiency, reduce scrap and rework, and optimize labor use in the plant. This is vital for almost any food product, but the meat processing industry has a unique set of challenges that must be overcome, especially when it comes to detecting metal foreign objects:
Operating environment. Meat processing plants often operate at cold ambient temperatures, sometimes near-freezing. Washdown processes on the other hand, use high temperature-high pressure spray down and may include chemical-based cleaners.

These washdowns introduce large temperature swings, referred to as "thermal shock."

High product effect. Fresh meat is often moist, bloody and conductive. Any salt, or other added spices creates even more conductivity and therefore more product effect, which makes metal detection challenging.

Changing production requirements. A production line may work with different products at different times in the same day. Or a single product type may itself have variability in level of thaw, or size and shape of pieces of meat, as it goes through the metal detector.
In order to address these challenges, care must be taken to select the correct metal detection system. Everything from design, to ingress protection, to IP69K rating, must be taken into consideration for the physical equipment itself. It should be able to survive many cycles of thermal shock, easy to set up, and compensate for difficult product effect.
After all, a high-performing metal detector means better food safety.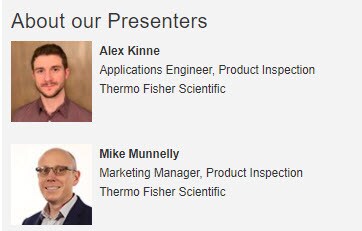 For more details about metal detection in the meat industry, watch the 30-minute on-demand webinar: Overcoming the Challenges of Foreign Object Detection in Meat Processing