Microbicides are heavily relied on by the food industry, where food manufacturers use them to improve hygiene in the food production process and also to improve food safety. With increasing consumer demands for healthy foods devoid of additives, producers are being forced to increase their use of biocides. But what effect does this have on microbial cells and resistance mechanisms that can arise? This issue is discussed in an article by Jean-Yves Maillard in the latest Culture magazine.
The lethal effect of microbicides on microorganisms is thought to be concentration dependent; low concentrations have specific effects on the cell whereas high concentrations have multiple targets. The concentration needed depends on the type of microorganism; bacterial spores are amongst the most resistant, whereas enveloped viruses are very susceptible.
In addition to the formation of endospores, vegetative bacteria can be intrinsically resistant to microbicides by the following mechanisms:
Survival in protozoal cysts.
Undergoing morphological changes. Vibrio spp. can change their morphology to rugose colonies during environmental changes, which are more resistant to chlorination (see Figure 1). The formation of smaller cells has also been documented with a correlation with decreased susceptibility.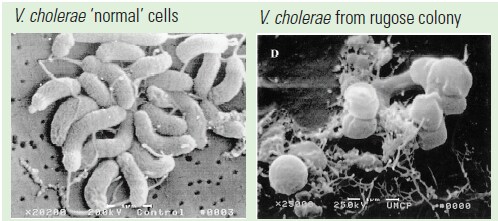 Figure 1. Morphology of Vibrio cholerae cells from a normal (left) and rugose (right) colony (from Chaiyanan et al. 2001).
Using concentrations exceeding the minimum inhibitory concentration (MIC) has several toxic effects on the cell, making it difficult for resistance mechanisms to arise in susceptible organisms. However, using suboptimal concentrations has been shown to select for resistance. This has been attributed to acquired mechanisms such as increased expression of efflux pumps, change in outer cell membrane and expression of detoxifying enzymes. There is concern that selecting for these resistant mechanisms may also increase resistance to conventional antibiotics. This concern has been augmented by studies showing microbicide-resistant bacteria – particularly those with increased expression of efflux pumps – have decreased susceptibility to antibiotics (see here, here and here).
However, the evidence so far is based heavily on in vitro studies which are not representative of environmental strains and selective pressures. With this in mind, a lot more research is needed to elucidate the exact implications microbicides have on resistance mechanisms and cross-resistance to antibiotics, so they can be used more effectively.
What are your thoughts on the use of microbicides in the food industry?