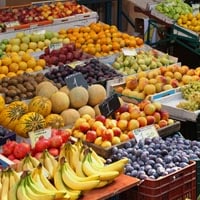 When we go to the grocery store, we have a good idea of what we want. Those among us who are of a more ambitious breed might actually have a list in hand! List or not, we all know what we don't want to bring home with our food, and that is pathogens that cause foodborne illness. With increasing consumer awareness concerning what may or may not be in the food we put on the table, it is no wonder that pathogen testing is on the rise globally. Moreover, as demands increase to bring quality food products to market quicker, rapid pathogen detection methods, such as molecular detection, are emerging as popular options to ensure our food is safer in a shorter period of time. As the awareness of molecular testing is on the rise, so are questions about its use in the food safety laboratory. As a Molecular Technical Service Representative for Thermo Fisher Scientific, I field many questions about molecular technology and its use. These are some of the most common:
 What is molecular testing and how does it apply to the food safety industry?
Molecular testing is a rapid pathogen detection method that involves the detection of molecules of DNA or Ribonucleic acid (RNA) from a sample source. The most common molecular detection method is quantitative real-time polymerase chain reaction (qPCR). With the use of fluorescent probes, qPCR is able to detect what pathogens might be present in food matrices based on targeted DNA sequences in real time. Targeting DNA in real time gives fast, reliable results in less than 2 hours. This video shows the Thermo Scientific SureTect PCR system in action – you can see how quick it can be to get results.
Why use molecular detection methods?
The major benefit of molecular detection of pathogens in food is unrivaled sensitivity and specificity. While there are challenges to any binding process, qPCR probes are more specific than other methods, such as immunological detection. qPCR probes are designed to target a specific and meaningful sequence of pathogenic DNA. When sequence specificity is combined with superbase and minor groove binding (MGB) technology, the chance of nonspecific binding is greatly reduced1.
      3.  Can more than one pathogen be detected at the same time from the same sample?
Yes!  One of the truly great advantages of qPCR-based food safety testing is the ability to multiplex probes directed against multiple pathogens in the same run2. For example, with a 5-color LED optical system, the SureTect system is capable of detecting pathogens in each sample, while still retaining the ability to include an internal control for each sample well that is run.
     4.  Does my lab need to have a strong molecular biology background in order to use molecular detection methods?
No!  Another major benefit of the SureTect system is its ease of use. With a streamlined protocol, tableted qPCR reagents, and automatic data interpretation2, the only technical skill needed is the operation of a pipettor.
 References
Chum, Pak Yang, Amanda Haas, and Melissa Kelley. Solution for RT-qPCR: Relative Gene Expression Analysis Using Thermo Scientific PikoReal Real-Time PCR System and Solaris Gene Expression Reagents. Vantaa, Finland: Thermo Fisher Scientific, 2012
It's Time to Be Sure. Lenexa, KS: Thermo Fisher Scientific, 2013
What rapid methods do you use for your food safety testing? Let us know! To see how your current method stacks up, try SureTect in your lab for a side by side comparison today!