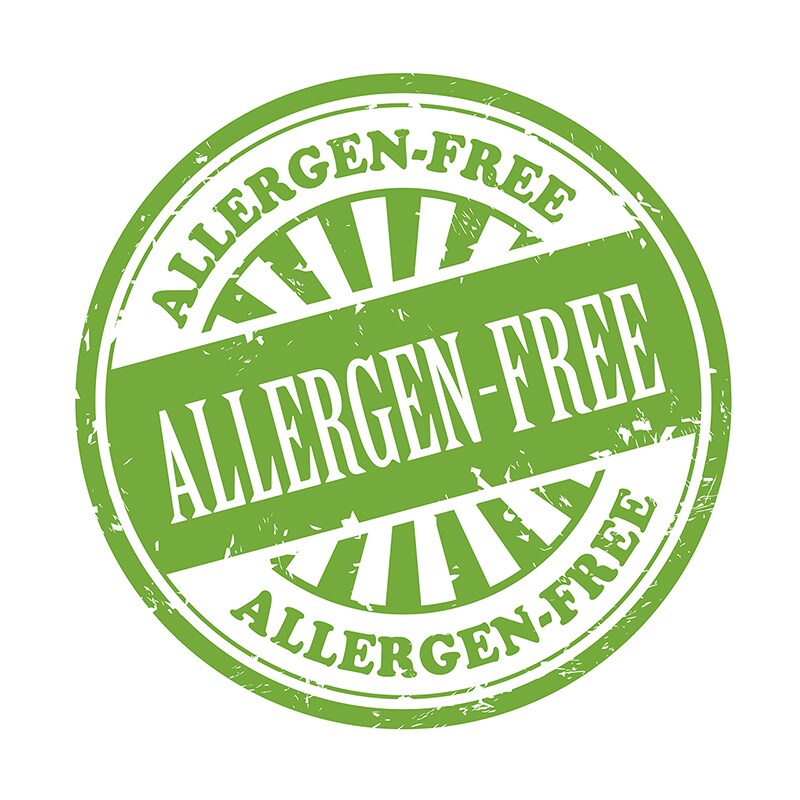 Contamination with food allergens, including hidden allergens, is a serious public health concern. Some kits which are commercially available for food monitoring carry limitations, including epitope masking as a result of the complex food matrix and inability to assay for multiple allergens simultaneously. Mass spectrometry (MS) based approaches may mediate these concerns.
Monaci et al.1 developed a multi-allergen detection protocol using microcolumn high performance liquid chromatography-electrospray ionization tandem mass spectrometry (microHPLC–ESI-MS/MS) to monitor for the common allergens egg, milk, and soy within a cookie food matrix. After estimating the protein content via Bradford assay, the team spiked store-bought egg-, milk-, and soy-free cookies with egg powder (1, 2, 5, 20 µg/g), skimmed milk powder (0.5, 2, 5, 20 µg/g), and soy flour (10, 20, 50, 100 µg/g) before extraction, purification, and tryptic digestion. They also experimented with an additional sonication step (10 min) intended to disrupt aggregated proteins thereby increasing the final yield. The researchers report this step particularly effective for milk protein samples and included it in the final workflow for evaluating the method performance.
In concordance with the recommendations previously set forth for the detection of food allergens by MS,2 the team focused on selecting stable, reliable peptide markers and relative transitions using preliminary untargeted MS scans on a mixed sample of egg, milk, and soy powders. They found 11 peptide markers and highlighted the 6 most intense peptides (2 per allergen type) that corresponded to the following proteins: glycinin G2, β-conglycinin-α-chain, glycin G4, ovalbumin, β-lactoglobulin, αs1-casein.
The team performed HPLC-MS using a Velos Pro dual-pressure linear ion trap mass spectrometer and an Acclaim PepMap analytical column (both Thermo Scientific). They noted that the dual cell platform boasts a faster scan rate when compared to standard linear ion trap instruments, allowing for an improved duty cycle and better throughput. The researchers processed raw data using Proteome Discoverer (1.3, Thermo Scientific) and made protein assignments using Sequest to search two databases: Uniprot and an in-house food allergen index.
For simultaneous detection, Monaci et al. report calibration curves with the following R2 values: >0.98 for egg and milk allergen samples and 0.92-0.96 for soy allergen samples. The limits of detection for egg, milk, and soy allergens, respectively, were 0.3 µg/g, 0.12 µg/g, and 2 µg/g. Finally, the team performed ad hoc analysis to determine recoveries. For this, they used two samples: one spiked with allergens (5 µg/g egg and milk, 50 µg/g soy) before treatment and one treated then spiked (with a quantity that corresponded to 100% recovery for each allergen) after the purification step. They calculated the following actual recovery percentages for egg, milk, and soy, respectively: 40%, 45%, and 23%. The researchers note that the higher limit of detection and lower recovery for soy allergens indicate that the extraction and/or purification steps could be modified to improve the results for these proteins.
Overall, the team offers this optimized protocol as very sensitive for simultaneous detection of egg, milk, and soy allergens. They propose further analysis to confirm that the markers are reliable and to investigate sensitivity for detection in processed, allergen-incurred food matrices. They posit that the flexibility and speed offered by the MS platform render it favorable for multi-allergen food monitoring applications.
References
1 Monaci, L. et al. (2014) 'Multi-allergen detection in food by micro high-performance liquid chromatography coupled to a dual cell linear ion trap mass spectrometry.' Journal of Chromatography A, 1358, 136–144.
2 Johnson, P.E. et al. (2011) 'Current perspectives and recommendations for the development of mass spectrometry methods for the determination of allergens in foods. ' Journal of the Association of Official Agricultural Chemists International, 94, 1026.
(with a quantity of each allergen that corresponded to 100% recovery)