As cheese ripens, its microbial population changes; the number of the initial starter culture organisms diminishes and secondary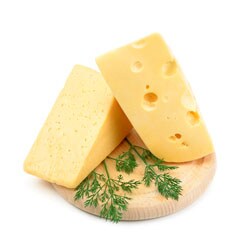 opportunists multiply as conditions become more favorable for them. This second wave of non-starter (NS) bacteria mainly comprises mesophilic lactic acid bacteria (NS-LAB) and they are usually considered welcome in the cheese-making process since they often contribute to the individual characteristics of the cheese, namely smell, taste, and appearance.
Another potentially welcome role for these NS-LABs is as natural preservatives to guard against the growth of mold in stored cheeses. Indeed, several species are potent mold inhibitors, showing activity against common cheese contaminants such as Aspergillus, Pencillium and Fusarium fungal species. By preventing spoilage from external contaminants, these NS-LABs could prolong shelf life – a potential use explored and supported successfully in a paper by Lynch and co-authors1.
Lactobacillus amylovorus DSM 19280, a species originally derived from cereals, is an effective inhibitor of Penicillium fungal growth in this food crop2,3. Since Penicillium species are the predominant fungal contaminant of Cheddar cheese, the researchers suspected that using it in cheese production might also stop mold-spoilage and prolong shelf life.
Firstly, the researchers confirmed the anti-fungal activity of the lactobacillus strain in vitro by inhibiting growth of Penicillium expansum FST 4.22 on milk agar. Overnight culture showed clear rings of mold growth inhibition around the L. amylovorus DSM19280 colonies but not a control strain, L. amylovorus DSM 20531 that does not exhibit antifungal activity.
The researchers then characterized the anti-fungal compounds released by L. amylovorus DSM 19280 into broth culture by liquid chromatography-high resolution accurate mass analysis (HRAM). Using an LTQ Orbitrap XL hybrid MS (Thermo Scientific) they identified 25 anti-fungal compounds synthesized by the lactobacillus. Of these, 11 were quantifiable and a further eight were compounds not previously identified in L. amylovorus4.
Once Penicillium growth inhibition was confirmed, the researchers investigated L. amylovorus DSM 19280 anti-fungal activity in miniature Cheddar cheeses. Batches of cheese were made with starter culture alone or with either the DSM 19280 strain or the non-antifungal DSM 20531 control strain as adjunct cultures. Presence of the added lactobacilli was confirmed by culture and isolation at the end of the ripening period. At 90 days, all cheeses had similar physical and biochemical profiles although those with the NS-LAB adjunct cultures contained more moisture.
When challenged with P. expansum FST 4.22, cheese containing the antifungal adjunct culture resisted contamination for longer than the untreated and control treated cheeses, thus prolonging shelf life. L. amylovorus DSM 19280 adjunct culture delayed mold growth for four days and six days following direct inoculation and airborne contamination of one-week-old cheeses respectively. Interestingly, the antifungal adjunct culture, L. amylovorus DSM 20531 also delayed mold growth following airborne exposure. The authors comment that this is not unusual as many lactobacilli naturally show some antifungal activity.
Lynch et al. conclude that the NS-LAB, L. amylovorus DSM 19280 shows great potential as a natural preservative in cheese-making. The use of this microorganism as an adjunct culture prolongs shelf life of the finished product by delaying spoilage by environmental fungal contaminants without altering its quality or characteristics.
For further discussion on food spoilage and microbial testing visit the Food and Beverage Community
References
1. Lynch, K.M., et al. (2014) "Application of Lactobacillus amylovorus as an antifungal adjunct to extend the shelf-life of Cheddar cheese", International Dairy Journal 34 (pp.167-173)
2. Arendt, E. K., Dal Bello, F., & Ryan, L. A. M. (2009). "Increasing the shelf-life of bakery and patisserie products by using the antifungal Lactobacillus amylovorus DSM 19280", European Patent Application EP 2009/056229
3. Arendt, E. K., Dal Bello, F., & Ryan, L. A. M. (2011). [pdf] "Increasing the shelf-life of bakery and patisserie products by using the antifungal Lactobacillus amylovorus DSM 19280", European Patent Application US 2011/0200569 A1
4. Ryan, L.A.M., et al. (2011) "Lactobacillus amylovorus DSM 19280 as a novel food-grade antifungal agent for bakery products", International Journal of Food Microbiology 146 (pp. 276-283)