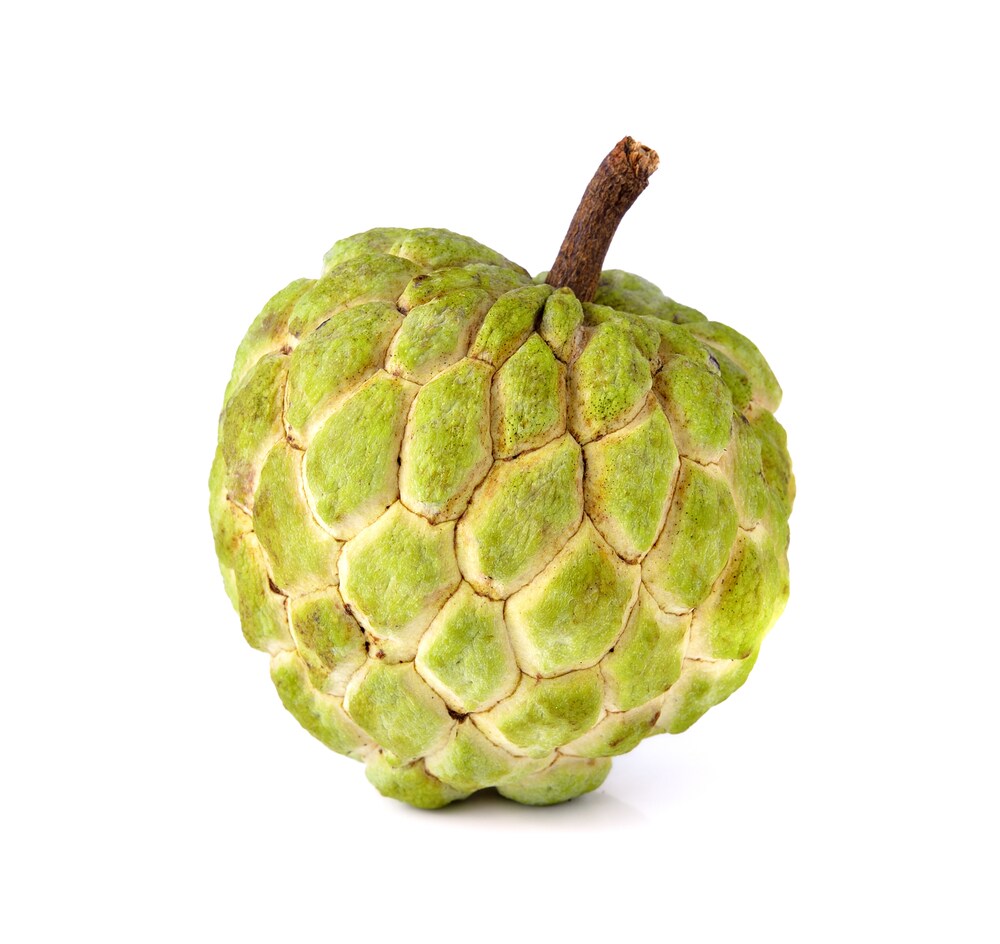 Annonaceaeous acetogenins or AAGs, are a class of polyketides specific to the Annonaceae family of fruit. This group includes plants such as Annona cherimolia Mill. (annona, chirimoya), Annona muricata L. (soursop), and Annona squamosa L. (custard apple). These plants are used in traditional medicine, eaten alone, or made into herbal infusions.
The French food safety agency and others have expressed concern over the safety of Annonaceae fruits. A few isolated studies over the last 6-15 years have also implicated AAGs as neurotoxins and responsible for clusters of atypical Parkinsonism/dementia reported in Guadeloupe (French West Indies)1 as well as in New Caledonia, London, and Guam.
Recently, Le Ven et al., investigated Annona cherimolia to determine if AAGs are present in the fruit pulp and in fruit-based commercial alcoholic beverages derived from its fruits. The authors explain that this species is widely cultivated in South America, Spain, and Portugal, with Acetogenins documented in its seeds, stems, and roots yet it is unclear if Annona cherimolia contains AAGs2.
This research group previously developed a method to detect AAGs found in other Spanish fruits.3 Their method relies on reversed-phase high performance liquid chromatography (in an HPLX Ultimate 3000 system, Thermo Scientific) coupled to a hybrid linear trap/Orbitrap mass spectrometer (LTQ-Orbitrap, Thermo Scientific) with postcolumn infusion of lithium.
Based on the molecular formulas, the team excluded molecules with [M + H]+, [M + Na]+, and [M + K]+ ions, and looked for the characteristic fragments containing [M + Li]+ ions. By examining other characteristic structural fragments of AAGs such as hydroxyl groups, lactones, terminal CH3 and non- adjacent-THF groups they were able to confidently identify AAGs. Next they ranked the AAGs as A, B, or C type based on the placement of tetrahydrofurani cycles within the aliphatic chain. The AAGs were then classified based on whether they contained a mono-THF (A-type), adjacent bis-THF, (B-type) or a nonadjacent bis-THF (C-type). Additionally, E-type AAGs were also classified as containing no THF, but instead containing epoxides and/or double bonds.
The 80 AAGs represent the first documented evidence of AAGs in A. cherimolia. They further characterized 31 AAGs and identified 18 subtypes and found the majority represented C35 AAGs. In addition, they determined 17 AAGs (21%) were of A-type, 17 (21%) of B-type, and 7 (9%) belong to other types. They were unable to determine the structure in 50% of species. They also found atypical lactone hydrolysis, a known characteristic of A. cherimolia from other Annona spp.
The team remarked that while the beverages derived from Annona cherimolia, they say that this fruit does appear to be a minimal source of exposure, Annona cherimolia should be monitored within the framework of a worldwide problem of food toxicity and be considered as a risk factor for developing atypical Parkinsonism and dementia.
References
1. Apartis, E.et al. "Predominant cortical dysfunction in Guadeloupean parkinsonism. "Brain 2008, 131, (pp. 2701−2709)
2. Le Ven, J. et al. (2014) "Identification of the environmental neurotoxins annonaceous acetogenins in an Annona cherimolia Mill. Alcoholic Beverage Using HPLC-ESI-LTQ-Orbitrap.", Journal of Agricultural and Food Chemistry, Aug 27;62(34):8696-704. doi: 10.1021/jf501174j. Epub 2014 Aug 18.
3. Le Ven, J. et al. (2012) "Comprehensive characterization of Annonaceous acetogenins within a complex extract by HPLC-ESI-LTQ-Orbitrap® using post-column lithium infusion." Journal of Mass Spectrometry, 47, (pp. 1500−1509)