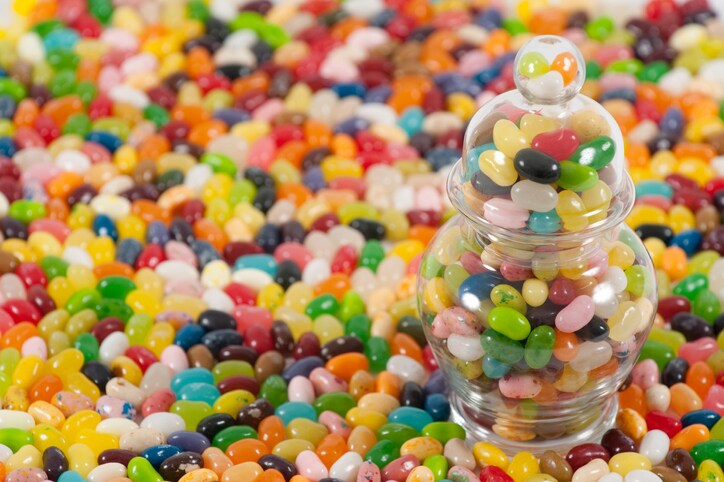 There is an SAT Math practice question by Varsity Tutors that deals with probability, which reads: "A bag of jelly beans has 20 watermelon jelly beans, 45 sour apple jelly beans, 30 orange jelly beans and 5 cotton candy jelly beans. If you reach in and grab one jelly bean, what is the probability that it will be watermelon flavored?"
There is indeed a mathematical way to come up with the correct answer.
Jelly bean manufacturers, though, are most likely more concerned about the possibility that a metal contaminant might be found in a box of their candies being shipped out the door.
Jelly bean making begins with a hot liquid candy, which is flavored and colored, then poured into molds, dried, steamed, sprinkled with sugar, and polished. The beans travel through various stations on conveyor belts, are tossed and tumbled through barrel-like equipment, and bounced around on metal screens. (You can see a great video of how they are made on the Today show site.)
The probability that pieces of screen, loose metal fasteners, and worn metal parts could fall into the batches of candy is something that quality engineers at confectionary companies try to address in their food safety programs. That's why food safety equipment is utilized throughout the plant floor.
Food metal detectors – which use high frequency radio signals to detect the presence of metal in food or other products – are a great solution for finding metal contaminants before products are shipped out the door. A digital signal processing system analyzes the incoming signal and sends an alert if metal is present. Multiscan metal detectors are capable of scanning up to five user-selectable frequencies running at a time, and has a higher probability of finding ferrous, non-ferrous, and stainless steel metal contaminants in challenging applications.
One candy manufacturer wanted to test the Multiscan technology with a case of jelly beans. A 25-pound case of assorted jelly beans was shipped to our facility. The product was tested on a 500mm x 200mm Multiscan metal detector by passing the product through the system multiple times to verify settings before adding test spheres to the package for contaminant detection. Metal test spheres were placed in multiple locations; leading, trailing and middle of the tub.
The results revealed that ferrous, nonferrous, and stainless steel metals were all detectable at sizes well under 2.0 mm by diameter. With such small metals detectable, the metal detector was able to provide a high level of food safety.
Multiscan metal detection technology reduces the probability of a metal contaminant escaping, which is a jolly relief to both the jelly bean manufacturer and consumer. After all, there are over 200 flavors of jelly beans, but none of them should taste like metal.
PS The answer to the SAT test question, according to the website, is 1/5.