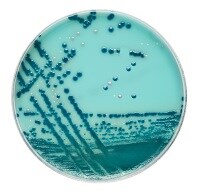 Carbapenemase-producing Enterobacteriaceae (CPE) possess resistance to virtually all beta-lactam antibiotics, fluoroquinolones, aminoglycosides, and co-trimoxazole. These bacteria have also been linked to high morbidity and mortality rates.<sup1,2 For these reasons, it is imperative for clinicians to have access to CPE detection protocols that provide both accuracy and rapid results, particularly in the event of an outbreak requiring infection control. Selective agars may prove essential in screening clinical specimens under these conditions.
Recently, Stuart et al.<sup3 evaluated Oxoid Brilliance CRE Agar (Thermo Scientific) to determine its suitability for this purpose. The researchers aimed to determine the selective agar's specific characteristics for the detection of CPE and establish its capacity for detecting carbapenem non-susceptible Enterobacteriaceae.
To do this, the researchers used 255 Enterobacteriaceae isolates derived from individual patients. Of these, 95 were carbapenemase-positive, and 160 were carbapenemase-negative. The carbapenemase-positive isolates included 73 Klebsiella pneumoniae, 10 Escherichia coli, eight Enterobacter spp., two Proteus mirabilis, and two Serratia marcescens. The carbapenemase-negative isolates included 87 E. coli, 42 Enterobacter spp., 16 K. pneumoniae, eight Klebsiella oxytoca, four P. mirabilis, one Citrobacter freundii, one Providencia stuartii, and one S. marcescens.
Stuart et al. inoculated the selective agar with 10 μL of 0.5 McFarland suspension (~106 colony-forming units) and aerobically incubated the plates before reading them at 24 and 48 hours. They used broth microdilution and/or Etest to determine minimum inhibitory concentrations (MICs) for beta-lactam antibiotics. Then, using breakpoints established by the European Committee on antimicrobial Susceptibility Testing (EUCAST), observed that, of the carbapenemase-positive isolates, 86 (91%) were non-susceptible to ertapenem, 83 (87%) were non-susceptible to meropenem, and 82 (86%) were non-susceptible to imipenem. Of the total, all but one (99%) were non-susceptible to at least one carbapenem. Of the carbapenemase-negative isolates, 52 (33%) were non-susceptible to ertapenem, 17 (11%) were non-susceptible to meropenem, and 18 (11%) were non-susceptible to imipenem. Fifty-six of the total (35%) were non-susceptible to at least one carbapenem.
The selective agar displayed CPE detection sensitivity of 89/95 (94%) after 24 and 48 hours. The researchers noted differences based on specific carbapenemase genes with the greatest sensitivity for Enterobacteriaceae that produce Klebsiella pneumoniae carbapenemase (KPC) and metallo-carbapenemase. Overall, the lowest sensitivity (84%) occurred with OXA-48-positive CPE, which requires co-production with an extended-spectrum beta-lactamase (ESBL). The isolates that co-produced OXA-48 and ESBL could be detected on the CRE agar while only one of the five isolates that produced OXA-48 alone could be detected.
The selective agar displayed CPE detection specificity of 71% after 24 hours and 63% after 48 hours. The researchers note that these numbers result from the competitive growth of ESBL and/or AmpC-producing isolates. They do not recommend incubation times that extend beyond 24.
For carbapenemase-negative isolates, the CRE agar displayed sensitivity (123/140, 88%) and specificity (103/115, 90%) for the detection of Enterobacteriaceae non-susceptible to at least one carbapenem. 11 carbapenemase-negative isolates with increased carbapenem MICs did not grow on the CRE agar. These included eight isolates of E. cloacae that produced chromosomal AmpC and three isolates of K. pneumoniae, E. coli, and P. mirabilis that produced ESBL.
Overall, CRE agar possesses the sensitivity to play a key role in CRE detection protocols, particularly when detecting strains that produce KPC- and metallo-carbapenemase.
References
1 Bilavsky, E, et al. (2010) 'How to stem the tide of carbapenemase- producing enterobacteriaceae?: proactive versus reactive strategies.' Current Opinions in Infectious Disease 23:327–331
2 Gupta, N, et al. (2011) 'Carbapenem resistant Enterobacteriaceae: epidemiology and prevention'. Clinical Infectious Disease 53:60–67
3 Stuart, J. et al. (2013) 'Evaluation of the Oxoid Brilliance™ CRE Agar for the detection of carbapenemase-producing Enterobacteriaceae.' European Journal of Clinical Microbiology and Infectious Disease, DOI 10.1007/s10096-013-1896-7.