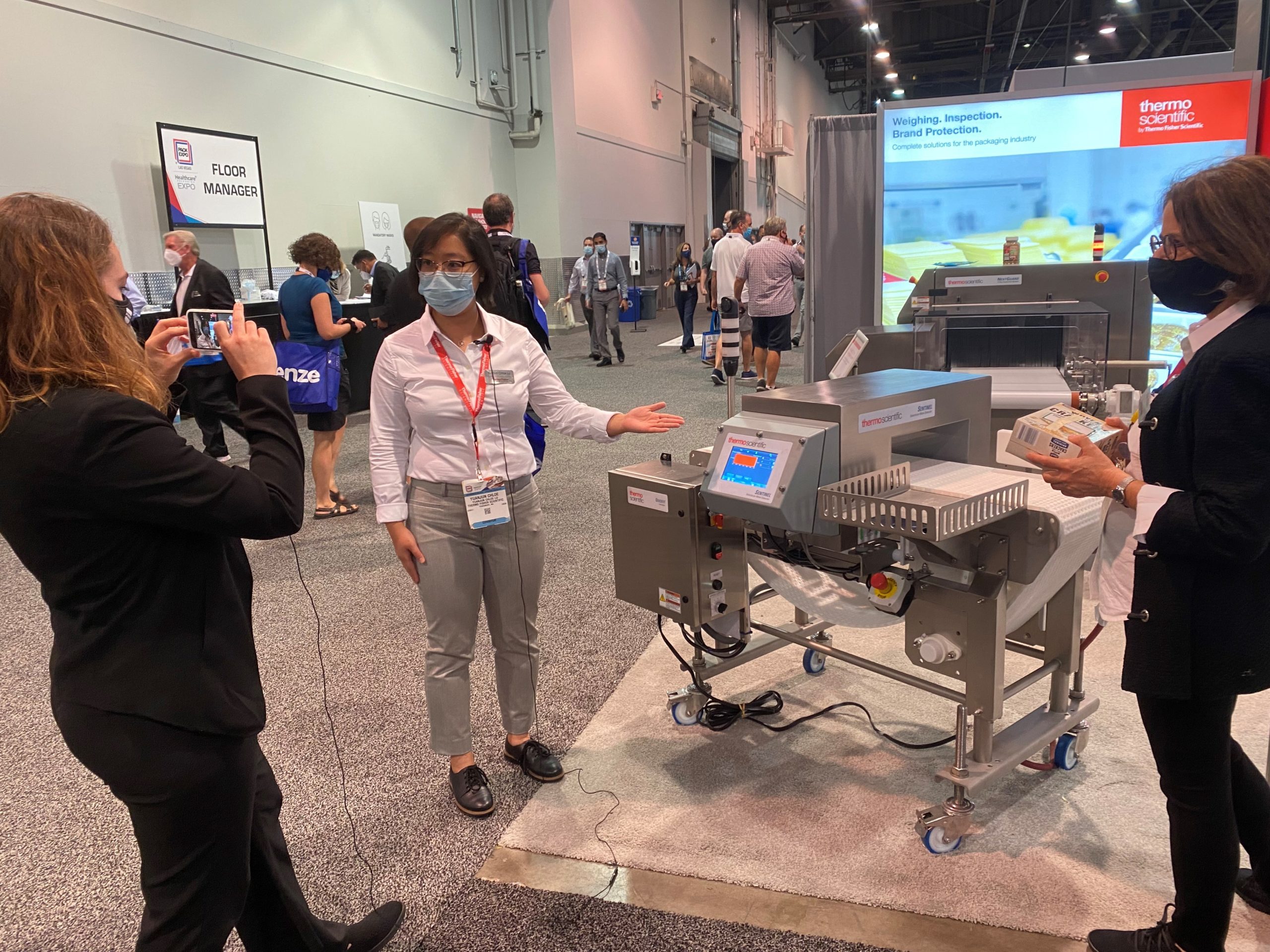 ProFood World proclaimed this year's PackExpo to be a huge success. According to show producer PMMI, The Association for Packaging and Processing Technologies, "over 23,000 attendees, eager to find solutions to current challenges, engaged with over 1,500 exhibitors across four expansive halls and more than 740,000 sq. ft. of exhibit space at the Las Vegas Convention Center. It serves as the largest trade show in the U.S. in 2021 so far."
We couldn't agree more. Our booth at Central Hall — C-2200 was crowded from beginning to end of the show.  We even had the press stop by and interview our experts on the latest food weighing and inspection equipment. (Pictured is Chloe Lu, Product Applications Specialist, for the Product inspection business who was interviewed by the media about the features and benefits of the latest metal detection technologies.)
That latest technology included Selectscan metal detection, which enables food processors to have an easy way to rapidly identify the single best metal detection frequency for an application for the highest level of food safety. Selectscan tunes out product effect and adapts results to account for temperature changes and electromagnetic interference. At the same time it provides documentation of results from each production run.
We also demonstrated in the booth other food weighing and inspection technologies, including Multiscan food metal detectors featuring innovative new technology to overcome the limitation of fixed single or dual frequency metal detectors, X-Ray Detection and Inspection Systems for finding non-metal objects that enter the food processing stream (like bones, stones, and plastics), and checkweighers that help maximize process efficiencies while providing reliable weight control measurements and consistent product throughput.
Given the current health and labor challenges, attendees talked about the heightened need for solutions that are easy to use and keep the line running to meet demand.  Investing in line expansions, new facilities and replacing older technology to help ensure uptime were also popular topics.
Throughout the show there was an emphasis on sustainability, e-commerce friendly packaging and robotics to push automation further and rely less on people.
In its closing press release, PPMI quoted attendees and exhibitors who proclaimed that this show was a great opportunity to re-engage with the industry, see the latest innovations and find solutions direct from experts. If you need more expert advice on food weighing and inspection solutions, you are welcome to talk to our experts anytime. Although we would love to see you in person, you don't need to travel to a show booth to discuss the needs and requirements of your food safety programs.