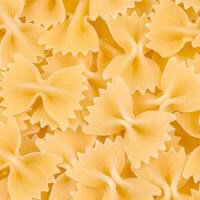 Adding whole eggs or egg yolk to dried egg-pasta is one way of enhancing its flavor and nutrition. For the benefit of consumers, European legislation requires an estimation of the egg content be visible on the pasta packaging. The egg content listed on the label is typically determined by estimating the cholesterol or total sterol content.
Recently, researchers from the University of Rome, led by Dr. Federico Marini, investigated a new method of determining the egg content in dried egg-pasta using near-infrared spectroscopy (NIRS) and chemometric analysis.1 The researchers simulated the dried egg pastas typically sold in stores by preparing their own dried egg pasta using six different concentrations of egg yolks ranging from 20.25%-33.50%. The researchers also varied the drying temperature (40, 52, and 65 °C) and the amount of time the pasta was allowed to dry (4, 6, and 8 h). Near infrared spectra of all pasta sampleswere acquired on a Nicolet 6700 FT-NIR instrument (Thermo Scientific).
The results of their work revealed that the drying time, temperature and egg content can all affect the signal obtained through NIR. To further interpret their results, the researchers employed a specialized data analytical technique called ANOVA–Simultaneous Component Analysis (ASCA). They also developed a non-linear calibration model based on the determination of the locally weighted partial least squares regression (LWR-PLS).
The researchers were able to use the LWR-PLS calibration model to efficiently and accurately quantify egg content in pasta. This method has the advantage of being a rapid, less costly method of determining egg content of pasta, and it can be used independent of the pasta manufacturing conditions.
References
Application of near infrared (NIR) spectroscopy coupled to chemometrics for dried egg-pasta characterization and egg content quantification.", Food Chemistry,140(4) (pp. 726-734)