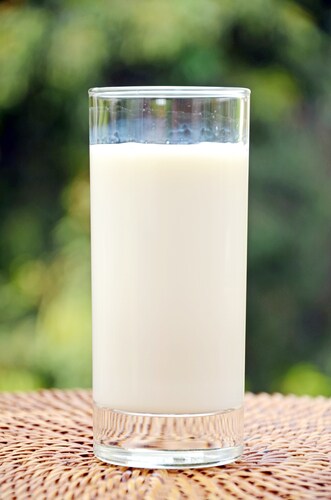 Perfluoroalkyls (PFAs), commonly used as surface treatment agents in a number of routine applications including polymerization, outdoor clothing and in firefighting foams, are environmental contaminants that find their way into the food chain. Unfortunately, these compounds have a long half-life and are not broken down in the body for excretion1. The effect they have on health is not fully known but animal studies show them as hepatotoxic, potentially carcinogenic and harmful to reproduction at high doses. The effect of chronic exposure has not been fully determined2.
PFAs build up in the body through environmental exposure and are also ingested in the diet. The European Union (EU) recognizes the potential threat to human health from these compounds and has applied strict limits to their presence in products to keep them out of the human food chain.
Hrádková et al.3 have developed a quick, simple, and cost-effective method for analyzing PFAs in food and animal feeds that complies with EU food safety directives. Their method is based on methanol extraction and subsequent charcoal clean-up followed by analysis using high performance liquid chromatography-tandem mass spectrometry (HPLC-MS/MS). Development of the new assay was carried out under the European CONffIDENCE (Contaminants in food and feed: inexpensive detection for control of exposure) project4 to comply with EU standards and regulations regarding PFAs (Recommendation 2010/161/EU) and food safety testing (Commission Decision 2002/657/EC).
Using fish muscle, fish feed and ultra-high treatment (UHT) milk, the researchers developed their method by spiking commercial PFA standards, perfluorooctane sulfonic acid (PFOS), perfluorooctanoic acid (PFOA), and perfluorooctane sulfonamide (FOSA) into the test matrices. Spike concentrations were selected with reference to the lower limits of quantification and detection established by EU regulations for measuring PFAs in foods.
Researchers extracted PFAs from the homogenized samples by shaking them with methanol and purifying the resulting slurry by solid phase extraction through activated charcoal. After centrifuging this extract and filtering the supernatant, the researchers assayed PFA concentrations by HPLC-MS/MS. Isotopically labeled PFAs were included as standards for quantification in each assay and added to each of the matrices prior to methanol extraction.
Once validated, Hrádková et al. calculated recovery rates for assaying matrices spiked with PFA standards at between 81 and 107%. Repeatability, as shown by relative standard deviation (RSDs) over all replicates, ranged from 3 to 12%. The LC-MS/MS method showed limits of detection (LOD) between 0.03 and 0.15 µg/kg and limits of quantification (LOQ) of 0.1 to 0.64 µg/kg. These parameters satisfied EU directives regarding analysis of foods for PFA contamination.
For further investigation and to review assay repeatability, eight laboratories in seven EU countries processed samples using the new protocol. Participating laboratories received contaminated fish muscle and feed in addition to UHT milk spiked with PFAs. Most ran the analysis using LC–electrospray ionization–MS/MS on triple-quadrupole MS systems, including the TSQ Vantage tandem mass spectrometer (Thermo Scientific).
Inter-laboratory comparison returned good repeatability statistics with recovery rates (51-117%) and RSDs (1-24%) acceptable to EU directives. By calculating the reproducibility RSD (RSDR) for each matrix, the scientists concluded that the method was suitable for consistent measurement of PFAs in fish muscle and feed, but not for milk. Although the cause of this inconsistency was not fully explored, the researchers consider that colloid effects in the milk may have affected the assay.
Hrádková and co-authors report that their method is indeed quick, with ten samples processed per hour under experimental conditions. The reproducibility, repeatability and limits of quantification and detection all lie within EU food safety directives for assaying PFA contamination of food. The authors are confident their simple extraction and purification sample preparation in conjunction with LC-MS/MS analysis is suitable for PFA food safety testing.
References and Further Reading
1. "Per and polyfluorinated alkyl substances put to the test", a BfR symposium on the status quo of the health assessment of PFAS, 6 and 7 March 2014 http://www.bfr.bund.de/en/press_information/2014/06/per_and_polyfluorinated_alkyl_substances_put_to_the_test-189635.html
2. Public Health Statement for Perfluoroalkyls from the Agency for Toxic Substances and Disease Registry "http://www.atsdr.cdc.gov/phs/phs.asp?id=1115&tid=237
3. Hrádková, P. et al. (2013) "A fast and simple procedure for determination of perfluoroalkyl substances in food and feed: a method verification by an interlaboratory study", Analytical and Bioanalytical Chemistry 405 (pp 7817-7827)
4. The European Conffidence Project http://www.conffidence.eu/index.php