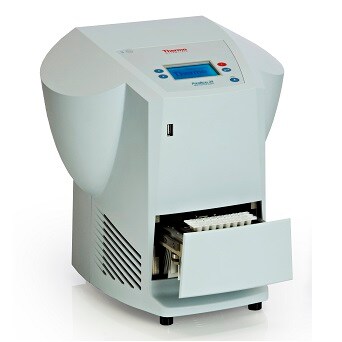 In July 2013, Thermo Scientific announced that the SureTectTM Listeria monocytogenes assay had been granted Performance Tested MethodSM status by the AOAC Research Institute, bringing convenient and sensitive testing to food microbiology labs worldwide. Currently, reference methods require a time-consuming enrichment step to selectively culture L. monocytogenes. In contrast, the PCR-based SureTectTM assay requires only a short enrichment step and results are ready within 80 minutes of loading the prepared samples.
L. monocytogenes, a Gram-positive, facultative anaerobic bacterium, is the only member of the genus Listeria that causes disease in man. Although infection rates are low and the disease is usually self-limiting or mild, the disease has a 20% fatality rate in those susceptible, including immunocompromised individuals, the elderly and newborns. In pregnant women, the organism can cross the placental barrier causing stillbirth or miscarriage.
Unfortunately, since L.monocytogenes is widespread in the environment and may also persist in processing plant environments1, the food industry must stay alert for potential contamination of food items. Foods commonly affected include raw or unpasteurized milk, smoked fish and shellfish, raw vegetables and cheeses. Contamination is neither eliminated through low temperature storage nor by vacuum or modified atmosphere packaging. For this reason, producers of deli meats, soft cheeses, and ready-to-eat (RTE) products that require minimal or no cooking prior to consumption are vigilant about monitoring and preventing contamination.
The most common route of infection is ingestion. The infective dose is fewer than 1000 bacteria, and the pathogen causes diseases ranging from a moderate febrile gastroenteritis to potentially fatal meningitis or encephalitis. Recent reviews of shellfish from Egyptian markets2 and RTE foods in Sweden1 found L. monocytogenes contamination present that was representative of the pathogenic subtypes isolated from concurrent patient samples.
Although food safety protocols are in place for detecting listeria contamination, procedures are lengthy and complex, requiring selective enrichment of L. monocytogenes above the more abundant background listeria strains. This can take several weeks when present in low numbers. The current FDA protocol advises 5-7 days following 24-48 hours enrichment3 as a normal duration for the procedure. It's also necessary to distinguish between virulent and avirulent listeria strains.
An alternative to traditional culture and biochemical investigation is PCR-based testing, as used recently in the two papers cited above1, 2. Results from PCR are available much more rapidly; the SureTectTM assay requires only 22-26 hours of enrichment followed by in-tube lysis and PCR amplification of virulence gene delimiter, prs which is unique to Listeria species. Results are ready within 80 minutes.
The recent report from Cloke et al. on the protocols and independent laboratory testing required for accreditation in food and environmental testing shows that, in addition to giving results faster, the SureTectTM assay performed more sensitively in certain food matrices than the standard reference methods4.
The assay, which is presented in kit form with all reagents conveniently pre-measured, also performed well in shelf life testing and in 'ruggedness', simulating potential laboratory mishandling. We think it's certainly a valuable addition to food safety laboratory protocols.
Read more about development of the SureTectTM suite of food safety assays here.
References:
1. Lambertz, S.T. et al. (2013) "Subtyping of Listeria monocytogenes isolates recovered from retail ready-to-eat foods, processing plants and listeriosis patients in Sweden 2010", International Journal of Food Microbiology 166 (pp.186–192)
2. Ahmed, H.A., et al. (2013) "Seafood a potential source of some zoonotic bacteria in Zagazig, Egypt, with the molecular detection of Listeria monocytogenes virulence genes", Veterinaria Italiana 49 (pp.299-308) doi: 10.12834/VetIt.1305.05
3. FDA Bad Bug Book – Foodborne Pathogenic Microorganisms and Natural Toxins Handbook (second edition)
4. Cloke, J. et al. (2014) "Evaluation of the Thermo Scientific™ SureTect™ Listeria monocytogenes Assay Performance Tested MethodSM 061302", Journal of AOAC International 97 (pp.133-153) http://dx.doi.org/10.5740/jaoacint.13-246