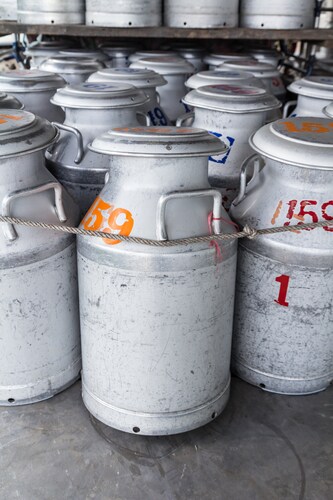 Current consumer preferences lean strongly toward natural foods with a minimum of processing, preservatives or additives. However, one of these preferences, raw milk, creates ongoing issues for regulatory authorities in many countries around the world. Given raw milk's complex microbiota1 and potential to spread disease, can legislation protect consumers when they are determined to ignore Louis Pasteur's groundbreaking contribution to mass food safety?
As the food industry strives to satisfy consumer demand with appropriate products, it must keep in mind responsibility for ensuring food safety. For some products, such as fresh produce, this means staying up to date with risk assessments for new foodborne disease (FBD) pathogen prevalence and methods for controlling contamination. In the case of fresh produce, processors need to be aware of sources of contamination that include worker hygiene and irrigation water in combination with routine microbial monitoring of processing plants to deliver a safe product.
However, sometimes the risks of FBD contamination are too high, as is often the case with raw milk. For this reason, food safety legislation frequently errs on the side of caution and bans or severely restricts its availability.
Milk microflora
Raw milk, which is milk that has not undergone pasteurization to reduce harmful pathogens before reaching the consumer, is a fertile growth medium for microbes. Furthermore, it is often consumed without further processing, meaning that unless the consumer heats or cooks with the milk, FBD pathogens remain viable and therefore infectious.
Pathogens responsible for disease outbreaks that were most commonly isolated from milk from 2007 through 2012 2 included:
Campylobacter species (81% of outbreaks)

Shiga toxin–producing Escherichia coli (17% of outbreaks)

Salmonella species (3% of outbreaks)
Other pathogens isolated included Listeria monocytogenes, non-Shiga toxin–producing E. coli, Brucella species responsible for brucellosis or undulating fever, Mycobacterium avium spp. paratuberculosis (Johne's Disease or paratuberculosis, which may have relevance in Crohn's Disease in humans), Yersinia enterocolitica (gastroenteritis), carcinogenic mycotoxins, and Coxiella burnettii, a rickettsia-like organism that causes Q fever.
Foodborne disease
As raw milk consumption increases, the number of associated FBD outbreaks also rises,2 as summarized from two studies carried out in 2012 and 2015. In its summary, the Centers for Disease Control (CDC) noted that even though only around 1% of all milk consumed in the United States is raw, "the risk of outbreaks linked to raw milk is at least 150 times greater than the risk of outbreaks linked to pasteurized milk."
Costard et al. (2017) noted more recently that even though only 3.2% of the US population consumed unpasteurized milk, it was responsible for 96% of illnesses caused by contaminated dairy products.3 According to the researchers, "Unpasteurized dairy products thus cause 840 (95% CrI 611–1,158) times more illnesses and 45 (95% CrI 34–59) times more hospitalizations than pasteurized products." And these numbers will rise as demand increases.
Milk safety legislation
In the United States only pasteurized milk can cross state lines; raw milk sales are controlled by each state under specific legislation, or are banned completely. Furthermore, controls may restrict sales to the farm itself, as in the United Kingdom (England, Wales and Northern Ireland), New York, and Connecticut. Unpasteurized milk may not be sold in Canada or Scotland, while the European Union allows its member states to draw up their own legislation.
Food safety officials also have a duty to inform consumers about the product, especially where it can be hazardous to vulnerable populations such as the very young or elderly, pregnant women, or immunocompromised individuals.
For example, state law in Washington requires that all retail raw milk products carry the following warning label:
WARNING: This product has not been pasteurized and may contain harmful bacteria. Pregnant women, children, the elderly and persons with lowered resistance to disease have the highest risk of harm from use of this product.
Milk safety monitoring
As a significant source of pathogenic organisms, raw milk is therefore subject to a battery of microbial testing protocols aimed at protecting consumer safety (microbial standards for raw milk summarized here). Contamination occurs from the environment, breakdowns in worker and animal hygiene, and animal illness as well as during processing or storage.
According to Washington State's Agriculture Department, raw milk requires more testing than conventional milk, which adds to the expense as well as delaying results. Labs use a variety of culture-based and non-culture-based molecular tools to evaluate microbial load in conjunction with regular food quality checks applied to treated milk. By bringing raw milk dairies into the Grade A dairy monitoring scheme, Washington tests raw milk dairies each month, taking samples from each product supplied by the farm.
Other authorities require herd health monitoring: in the United Kingdom, for example, milk may only come from herds in England, Wales or Northern Ireland that are free of brucellosis and tuberculosis. Twice-yearly inspections ensure producers comply with hygiene measures.
With interest in raw milk rising among consumers, and a predicted increase in FBD associated with its consumption, food safety laboratories, regulatory bodies and officials need to stay up-to-date with testing strategies and disease emergence. As a result, reliance on non-culture-based molecular testing for faster screening could increase so that authorities can identify and act faster when FBD outbreaks due to raw milk occur.
References
1. Quigley, L. et al. (2013) "The Complex Microbiota of Raw Milk," FEMS Microbiology Reviews 37 (pp.664–98) https://doi.org/10.1111/1574-6976.12030
2. Mungai, E.A., et al. (2015) "Increased Outbreaks Associated with Nonpasteurized Milk, United States, 2007–2012," Emerging Infectious Diseases. 21 (pp.119-22) doi:10.3201/eid2101.140447.
3. Costard, S. et al. (2017) "Outbreak-Related Disease Burden Associated with Consumption of Unpasteurized Cow's Milk and Cheese, United States, 2009–2014," Emerging Infectious Diseases 23 (pp.957-64) doi:10.3201/eid2306.151603