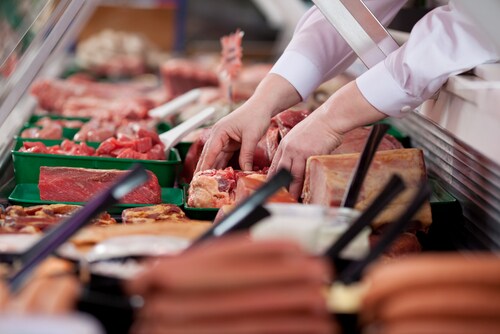 A recent publication summarizing results from a structured expert elicitation shows that risk assessment by food product could provide guidance on food safety policy.1 Narrowing down foodborne disease (FBD) pathogens to specific foods globally allows producers and legislators to concentrate on effective FBD control.
Hoffman et al. (2017) expand on the World Health Organization (WHO) Foodborne Disease Burden Epidemiology Reference Group (FERG) estimates on disease burden published in 2015.2 This report estimates that 31 global FBDs caused more than 600 million illnesses and 420,000 deaths worldwide in 2010. For their 2017 publication, Hoffman and co-researchers use Cooke's classical model to present globally comparable data drawn from 73 expert judgments on food-source attribution for 11 FBDs in 14 world subregions. The results indicate FBD disease risk estimates per food source around the world—the first comprehensive global estimates available to food safety policymakers to guide decision-making in controlling consumer safety.
The research team first identified global experts in FBD through peer nomination in the fields of epidemiology and food science research. Following consultation, they chose 100 experts, of which 78 agreed to take part and 73 submitted final responses. The experts responded by indicating foods most associated with FBD in their global subregion; attribution related to the risk of disease from foods at the end of the food supply chain. They assessed risk at the time of final preparation as the product arrived in the home, and did not base risk on cross-contamination with other foodstuffs once in consumer hands. In other words, the risk estimates showed FBD pathogen exposure in the food itself, rather than a pathogen's ability to contaminate other items. Therefore, results show where interventions in food industry hygiene are applicable rather than focusing on consumer education around food preparation and storage.
Through applicable modeling, the authors graded and weighted the aggregated expert responses so that all data were regionally comparable. The final report shows measures of central tendency and also uncertainty bounds for each estimate. Hoffman et al. then compared the data with previously published reports from European and North American food-source attribution research studies.
The research team found that when aggregated, the expert elicitations gave an overall global picture of food attribution sources for the major FBDs under consideration. The pathogens under investigation included bacteria such as Salmonella species, parasites such as Echinococcus multilocularis, and viral agents such as norovirus. Grouping foods together under headings such as dairy, vegetables, fruit and nuts, and meats, with further specification of types of meat, the results showed foods associated with FBD occurrence in each of the global subregions. Where possible, and mostly in data from high-income regions, Hoffman et al. compared the expert elicitations with previously published studies and found close general agreement.
Although the researchers found consistent pathogen risk assessments across all regions, with similar foods implicated in FBD globally, they did see differences in food exposure routes. For example, pork was less risky for non-typhoidal salmonellosis in American and African subregions than poultry and eggs, whereas European and Western Pacific data indicated similar risk from all three categories. In all but two subregions, beef played a predominant role in Shiga toxin–producing Escherichia coli (STEC) transmission.
As the first global summary of food attribution risk assessment, the study is valuable for food safety initiatives around the world. This includes the US Food Safety and Modernization Act (FSMA), which calls for a preventive strategy to combat FBD based in part on risk.3
As discussed previously on Examining Food and summarized below, the FSMA relies on hazard analysis and risk assessment to implement measures that will control FBD to protect consumers.
One of the act's seven titles, FSMA Title I: Improving Capacity to Prevent Food Safety Problems, requires producers to implement risk-based preventative control measures, including a full hazard analysis with corrective actions when appropriate. This includes reviewing microorganisms likely to contaminate food products, the extent to which those organisms might survive at every stage (production, distribution, retail, and domestic storage), and adequate measures to prevent this.
The first two rules under the FSMA describe how this will be implemented:
Preventive Controls for Human Foods: requires a written food safety plan, including hazard analysis, preventative controls, and management (monitoring, corrective actions, verification).
Preventative Controls for Animal Foods: provides flexibility for animal feed producers while requiring similar hazard analysis and management as human food production.
Hoffman et al. acknowledge that an expert elicitation carries less weight than hard data, and the authors call for more extensive studies to establish food attribution risks, especially in low-income countries. They suggest that food-source attribution as a new area of research could help establish better food safety protocols in addition to estimating global burden from FBD.
Reference
1. Hoffmann, S., et al. (2017) "Attribution of global foodborne disease to specific foods: Findings from a World Health Organization structured expert elicitation," PLoS ONE, 12(9): e0183641. ttps://doi.org/10.1371/journal.pone.0183641
2. Havelaar, A.H., et al. (2015) "World Health Organization global estimates and regional comparisons of the burden of foodborne disease in 2010," PLoS Med. 3; 12(12): e1001923. https://doi.org/10.1371/journal.pmed.1001923 PMID: 26633896
3. Examining Food (2016) "FSMA, part two: A preventative approach to food safety"
Read more about the FSMA from Examining Food.