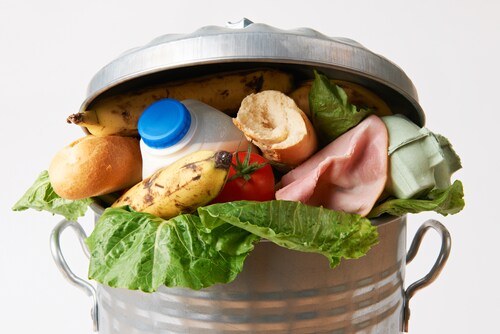 The term "food insecurity" refers to inconsistent access to proper nutritional support. It's a complex socioeconomic affliction with an array of causes—poverty, supermarkets prioritizing "blemish-free" produce, food deserts—that add up to a startling 42.2 million Americans living without the food they need to maintain a healthy, nutritious diet.
A main driver of this issue is something very close to home: throwing away food we don't use. Rates of food wastage are rising in the United States, with sources citing increases of more than 50% per person between 1974 and 2005,1 resulting in disposal of approximately 40% of food,2 valued at around $160 billion.
A contributing barrier to tackling food insecurity and reducing waste comes from a surprisingly benign place: the date stamp.
Labeling regulations for food products are tightly controlled, federally and across global trade. Manufacturers and processors must display ingredient lists in packaging to highlight the presence of allergens in addition to denoting appropriate product weights. They usually also include a date stamp next to the words "use by," "best before" or "best if used by."
Without further information, many consumers take all these phrases to mean that food items have an expiry date. Because of this, people often discard otherwise safe and nutritious food past this date. This behavior isn't limited to households: organizations active in alleviating food insecurity often use so-called expiry dates as a reason to refuse to accept donated product. It is, ultimately, a systemic pattern of detrimental behavior based on assumptions and misinformation.
In reality, most date labels on food products indicate freshness or peak quality rather than when the product should be discarded. This confusion, in addition to retail and consumer preference, has led to increasing levels of food waste, where completely edible products end up in the landfill rather than on the plate. In 2001, approximately $900 million in food inventory ended up as waste.1
A policy paper jointly authored by the Harvard Law School Food Law and Policy Clinic and the National Resources Defense Council suggests clarifying food labeling through standardization to properly explain "best by" and "use by" dates.1
The coauthors suggest that eliminating confusion over expiry could both reduce food waste and help organizations dealing with food insecurity. They propose that this could save 398,000 tons of food annually in the United States and return $1.8 billion in economic value.
The practice of date stamping is a reasonable and necessary practice hindered by a larger social misunderstanding of its use. For optimal consumer acceptance, manufacturers must supply consistently high-quality items that support brand integrity. One way to do this is to ensure that at every bite, the consumer experiences the food at peak freshness for taste, texture and aroma. Indicating this as a "best by" statement makes sense, both commercially and for food safety.
Any changes in food-label regulation for date statements would affect producers, especially if expiry dates were confined to indicating spoilage.
Food industry members can take a number of measures to stay ahead of the discussion on date labeling.
Of prime importance is understanding the product specifics of spoilage and the packaging environment. Seemingly straightforward processes like canning and using aseptic packaging are reliable, but they are also still susceptible to contamination that can spread botulism and staphylococci. There is room for technology and scientific advancement to make these means of mass preservation even more rigorous in guaranteeing safety. An example is modified atmosphere packaging (MAP), which creates an inert environment around food that impedes or inhibits microbial growth. Using such technology, a food manufacturer can prolong shelf life and freshness, preventing spoilage.
Contamination and spoilage take time. The ability to rapidly test for pathogens in food, especially in food with a short shelf life, like lettuce and greens, is invaluable in the struggle against food waste. Urban Organics, a certified organic aquaponic farm in Fort Myers, Florida, has implemented the Thermo Scientific™ SureTect™ system (Thermo Fisher Scientific) to screen the produce for Salmonella, Listeria and E. coli O157:H7. With its facility, tools and training, the company is able to ensure the viability of a fragile product before it's released to retailers. Faster testing means a faster release, ensuring produce gets the longest shelf life possible.
Any nutritionist will tell you that the availability of dark, leafy greens is essential to almost any diet. They'll also tell you that the thought process that goes into planning meals and predicting your needs is just as important as creating a balanced meal.
Similarly, tools like predictive microbiology could allow food producers to better predict shelf life and identify potential control points to anticipate bacterial growth. If the perceived length of "freshness" of an item contributes to food spoilage, then anything we can do to prolong the consumer's perception of quality can only help prevent that food being thrown away, even if the consumer doesn't personally have all the necessary information and research on date stamps.
The problem of $160 billion dollars in food waste won't have a single, simple solution. It will require a diverse, multidisciplinary strategy from all facets of the food industry to alleviate the burden of food insecurity on millions of affected Americans.
A concise, uniform set of labeling standards to best inform the consumer of their food's viability is a tool best used in conjunction with a robust process of food-safety testing and manufacturing processes. By reducing the factors that contribute to waste, we can reduce the factors that contribute to food insecurity and hunger.
For further discussion on food testing for safety and quality indicators, visit our food microbiology section.
References
1. Leib, E., and Rice, C. (2017) "Don't waste, donate: Enhancing food donations through federal policy," Harvard Law School Food Law and Policy Clinic and Natural Resources Defense Council.
2. Spivak, L. (2017) "Uniform sell by labels could reduce waste," KSPR.