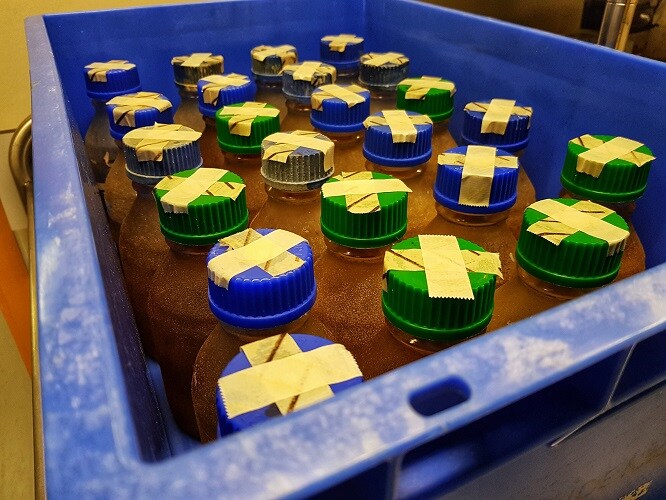 Preparing culture media for the microbiological examination of food samples is a routine practice in many laboratories. While this time-consuming and labor-intensive process can present many hazards, there are ways to improve efficiency along with safety. Who among us hasn't been wary of approaching the super-heated contents of an autoclave or worried about getting our fingers too close to a spinning centrifuge? These hazards intensify when impatience over media preparation or the demands of a busy workload push lab workers to cut corners.
What are some of the considerations to be aware of during culture media preparation, and how can lab managers minimize health and safety risks for their teams? The following guidelines offer an approach that improves efficiency, reduces the hassle of media prep, and ensures the consistency of media batches to streamline your workflow.
Weighing and handling powdered media
Dehydrated culture media needs to be weighed and measured under a extraction hood to avoid inhalation. Make sure that lab workers have been trained and that there is adequate access to the extraction hood. Make sure there is enough ventilation, and that all workers use personal protective equipment. Avoid dust formation. According to our experience and the information provided on the packaging, dehydrated culture media does not have any harmful effects if it is used and handled as specified on safety data sheets.
Minimize injury by taking precautions
Injuries aren't only traumatic for workers; they can slow the productivity of a lab to a crawl. If splashes are likely to occur, wear safety glasses with side shields (we recommend European standard – EN 166). For prolonged or repeated contact and handling of heated vessels, use the appropriate protective gloves.
Mixing or rehydrating media as well as sterilization in an autoclave require handling glassware, which can result in the risk of breakage and subsequent cuts or abrasions. Bottles of media can even occasionally explode in an autoclave during sterilization. Review the location of cleanup kits and first aid supplies in advance. Use forceps, tongs or a broom and dustpan to clean up broken glass and dispose of the shards in puncture-resistant containers
Autoclaving
Adequate and accurate sterilization of culture media in an autoclave is often essential for media preparation. However, working with autoclaves is probably the area of greatest risk to lab workers. Loading and unloading the autoclave with often hot, heavy glassware needs to be done carefully to reduce the risk of injury to the operator.
Autoclave availability and space is a commonly mentioned blockage point in media preparation workflows. The pressure to rush or overload machines increases the risk of mistakes, which could ultimately lead to injury.
Careful consideration of the autoclave's position in the lab and availability of multiple instruments is important, as well as adequate training on best practices for loading and unloading. Before installing your autoclave, think about:
access

control position

outlets

loading arrangements
The operator needs safe access, which requires considering general hazards such as:
working at height

hot surfaces

poor visibility

awkward reaches
The high temperatures and pressures involved in an autoclave cycle bring their own risks; temperatures of 121 degrees Celsius mean that the contents are superheated and while the autoclave will be cooled before unloading the contents can remain hotter and still present a hazard to handlers. Suitable protection and careful handling are required to reduce the risk of burns. The pressurized nature of the system means it's essential to carefully secure the doors, as deaths have occurred due to sudden depressurization.
Adequate risk assessments and training for laboratory workers involved in culture media preparation are essential for employee well-being. Many laboratories are re-thinking their media preparation workflow entirely and adopting new approaches. Pre-weighed, gamma-irradiated dehydrated culture media in bagged formats remove the need to handle powered media and sterilization altogether – along with the associated risks.
As well as helping to improve laboratory health and safety, dehydrated bagged media formats such as the Thermo Scientific™ FitBag™ and QuickBag™ Enrichment Media provide the added benefit of decreasing media preparation time, giving you the flexibility to respond rapidly to fluctuating testing demands, and allow the lab team to focus on higher-value activities.
Learn more about the benefits of switching to a more convenient bagged media format to keep your lab working smoothly at thermofisher.com/enrich.