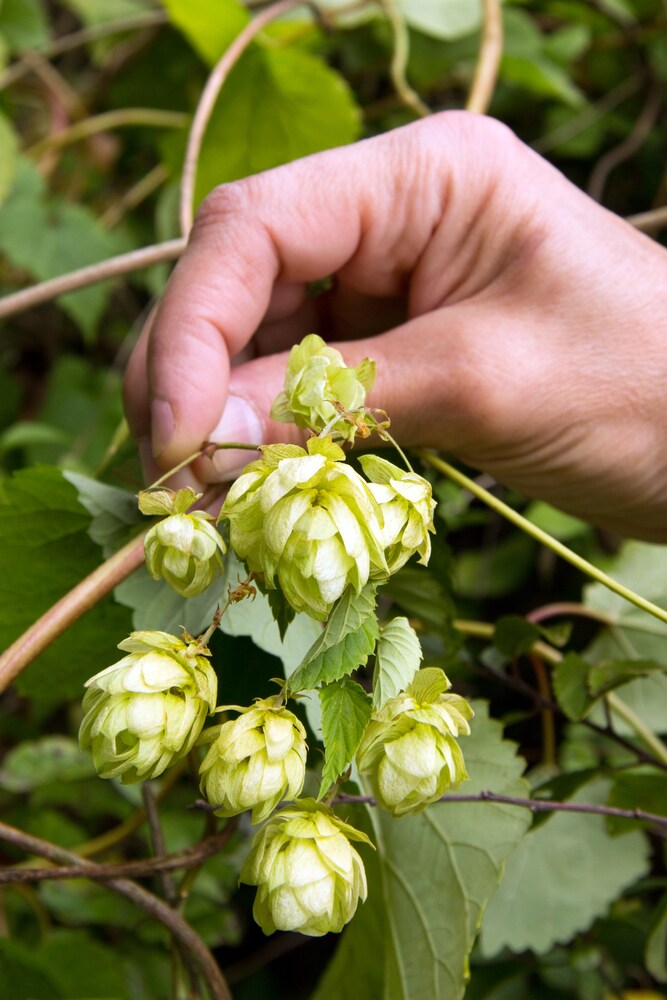 Despite its global popularity, the sudsy beverage that is a favorite in bars around the world—beer—remains a challenging food product to analyze. Along with factors such as variability of ingredients and the wide array of chemical processes that take place during the brewing process, the complexity of beer is due in large part to one of its primary components: hops.
The bitter, acidic extracts from the hop plant, or Humulus lupulus, give beer its flavor, aroma and foamy quality. The plant is also thought to have medicinal uses as a natural antiseptic and potential cancer preventive.1
While previous studies have successfully identified the various components found in beer during its manufacturing process, the simultaneous complexity and structural similarity of the hop bitter acids make their quantification in beer samples difficult. GC-MS methods have been the primary source of accurate beer analysis, but are time-consuming and expensive.2
Fittingly, the country that is home to Oktoberfest also produces scientists focused on addressing the demand for a more efficient way to analyze beer. Ivanova and Spiteller, a pair of researchers at the Technical University of Dortmund in Germany, sought to develop a fast, highly accurate method of online analysis that could measure the components of the beverage better than any existing procedure.3 The method they believed would be right for the job was UV-MALDI-Orbitrap mass spectrometry.
Despite the technology's complex quantification procedure, the researchers felt that the UV-MALDI-Orbitrap (Thermo Scientific) was the ideal instrument for the study of beer due to the numerous advantages it provides in comparison to previously documented alternatives. In addition to being fast and accurate, the Matrix-Assisted Laser Desorption/Ionization (MALDI) technique employs a matrix material to prepare analytes before using a UV laser to irradiate the samples prior to ionization. It is therefore able to effectively measure fragile analytes such as the hop bitter acids without breaking them down, as other MS methods would.
To put the UV-MALDI-Orbitrap MS method to the test, the scientists ran an analysis of four beer types from three different manufacturers. Of those four beers, three had an alcohol content of 4.8% while one was non-alcoholic. Each sample was prepared with four different matrices: three organic salts identified for their ability to crystallize with the analytes of interest, and 2,5 Dihydroxybenzoic acid, which is commonly used as a matrix in such experiments.
The UV-MALDI MS method was found to provide a fast, accurate analysis of the hop bitter acids in beer, despite their complexity and structural similarity. By employing sample preparation steps that allowed for the determination of analytes in a crystallized state, the quantification of both major and minor hop bitter acids was made possible, as solid-state sample preparation is crucial for the analysis of components with low molecular weights.
Ivanova and Spiteller concluded that the UV-MALDI-Orbitrap MS technique provides a highly accurate measurement of the hop bitter acids in beer. The method therefore provides not only an effective and efficient way of quantifying the acids, but an analytical procedure that shows promise for the improvement of beer manufacturing technology, the monitoring of beer quality and potentially the further discovery of the acids' medicinal usages.
References
1 Chen, W. and Lin, J. (2004), 'Mechanisms of cancer chemoprevention by hop bitter acids (beer aroma) through induction of apoptosis mediated by fas and saspase cascades.' Journal of Agricultural and Food Chemistry 52 (1) 55-64.
2 Haefliger, O. and Jeckelmann, N. (2013). 'Stripping of aroma compounds during beer fermentation monitored in real-time using an automatic cryotrapping sampling system and fast gas chromatography/mass spectrometry.' Analytical Methods 5 (17) 4409-4418.
3 Ivanova, B. and Spiteller, M. (2014). 'Solid-state determination of hop bitter acids in beer by UV-MALDI-Orbitrap mass spectrometry.' Journal of Food Measurement and Characterization 8 (4) 343-355.