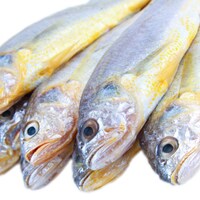 The yellow croaker (Pseudosciaena crocea) is found in south-eastern China. The large yellow croaker is important for commerce, aquaculture and Chinese cuisine. A limiting factor in the consumption of fish such as the yellow croaker is the high rate of spoilage. Fish fillets are highly perishable and the development of more reliable methods to preserve fish and prevent spoilage is of great interest to aquaculture.
Plant extracts known as tea polyphenols (TP) have been used to enhance and preserve food. Previous investigations have shown tea polyphenols also possess antioxidants, natural enzyme inhibitions, and antibacterial properties.1
Interested in the effects of tea polyphenols preservation in stored yellow croaker samples, Zhao et al. employed a proteomic strategy using two-dimensional polyacrylamide gel electrophoresis and mass spectrometry (2D -PAGE/MS) to investigate the protein changes in large yellow croaker muscle fillets over time.2
The researchers subjected fillets from commercially grown large yellow croaker to immersion in one of three concentrations of TP (.3%, 2% or .1% TP) for a total of 25 days. Myofibrillar proteins were extracted to determine the freshness of the fish. In particular, the Ca2+-ATPase activity, hydrophobicity, total sulfhydryl content, emulsion stability index and rheological behavior of the myofibrillar proteins were all used as indicators of freshness.
When the Ca2+-ATPase activity and the total sulfhydryl content were examined in the yellow croaker fillets, the .3% TP immersed samples had the greatest protective effect against spoilage, followed by the samples immersed in .2% TP. The surface hydrophobicity of proteins and the rheological behavior of the myofibrillar proteins were also examined and the trends in protection from degradation remained consistent
The protein degradation trends within this study can be used in future studies to understand the degradation of fish fillets over time. This work also represents the effectiveness and value of natural fish preservation techniques.
References
Antibacterial effects of green tea polyphenols on clinical isolates of methicillin-resistant staphylococcus aureus.", Current Microbiology, 57, (pp. 542–546)
Zhao, Jin (2013) "Effects of tea polyphenols on the post-mortem integrity of large yellow croaker (Pseudosciaena crocea) fillet proteins.", Food Chemistry (141) (pp. 2666-2674
Have you found this interesting? Let us know, and share with a colleague.