The protein bar market size is predicted to experience significant growth over the next few years due to increasing consumer preference towards convenient ready-to-eat-food products. A Global Market Insights report noted that "products are gaining popularity owing to rapid growth in health & fitness clubs and growing awareness towards a healthy lifestyle which is likely to drive the protein bars market growth."
Snack Food & Wholesale Bakery reported that "snack and nutritional bars are not only growing in popularity, but they represent an innovative category that keeps up with trends and is rewarded for its creativity." The report cited that sales of snack bars overall grew 2.4 percent to reach over $6.3 billion by March of last year, with continued growth expected, and that protein bars are a top trend in this category. Most snack bar companies in the report are seeing significant increases, and several are undergoing double-digit growth, with one manufacturer experiencing a 90% increase in sales.
With the rapid growth of the snack and protein bar industry, manufacturers are of course, ramping up production. But as in any industry with any high growth, snack bar manufacturers must take precautions so that quality does not suffer.
Most food processing companies utilize food safety equipment in order to ensure that physical contaminants do not enter the production stream, but sometimes it can't be helped. With production scaled up, there's a possibility of vibrating machinery dropping loose screws, nuts, and bolts into the products. Or parts can wear out, and pieces of mesh screen or metal chips can contaminate a batch. It is even more crucial these days that food processors, including snack and protein bar companies, are using the latest technology for food safety.
If a main concern is metal, wires, or mesh screen contamination in small, dry products, then manufacturers will benefit from choosing a metal detector. Metal detectors use radio frequency signals to detect the presence of metal in food or other products. A digital signal processing system analyzes the signals and sends an alert if metal is present. Multiscan metal detectors are capable of scanning up to five user-selectable frequencies at a time, and provides a higher probability of finding ferrous, non-ferrous, and stainless steel metal contaminants in challenging applications.
One issue with baked products that needs to be considered is product effect – where warm, moist products can fool the detector into thinking there is a metal contaminant when there is not, and trigger a false positive. Multiscan technology should be used in this case because of the benefits of using different frequencies that can run at once.
Another issue is that many snack foods are packaged in metalized material that is formed into a bag and has heat seals on either end. This kind of packaging helps keep out moisture, oils, air, and odors. Since the package contains a form of metal, a thin layer of aluminum in most cases, metal detection is not the best choice for contaminant detection.
An X-ray detection and inspection system is the better choice, which can find glass, rocks, bones or hard plastic pieces in addition to metal. X-ray inspection systems are based on the density and thickness of the product and the contaminant. Dense foreign matter appears darker in the X-ray image, and the image processing engine identifies each contaminant. This is helpful when protein and snack bars include fruit and nuts that could contain these physical contaminants in the supplier's bulk materials.
Testing Unwrapped Bars
Because of these concerns, several snack and protein bar companies asked us to run some tests on their products to see if the latest technology could alleviate some of their food safety concerns.
For our first test, we ran three unwrapped protein bars through our Multiscan metal detector. Products passed through the system multiple times with a 1″ gap between bars to verify settings before taping test spheres to the package for contaminate detection. Metal test spheres were placed in multiple locations; leading, trailing and middle of the set of three bars, to simulate the unpredictable position of a real contaminant in production.
Multiscan technology is beneficial in detecting metals at different locations in the package by using different frequencies, thus increasing the probability of detecting smaller sizes of metal anywhere in the product. The products tested were of different composition and sizes including:
23g baked protein bar
65g protein bar
46g crunch protein bar
65g cookie dough and protein bars
65g chocolate brownie protein bars
Testing Wrapped Bars
For the wrapped bar testing, we ran a 35g bar and a 20gram cereal bar through our food X-ray inspection system 10 times to see if it could detect stainless steel and glass contaminants.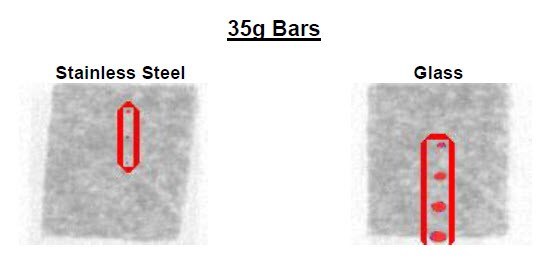 For both metal detection and X-ray inspection, we were able to provide a realistic sensitivity estimate which helped the customer understand what was achievable in practice.
In addition to running full bars through the system, we also tested partial bars. The mass estimation function of the system was able to determine the weights of the cereal bars with an average and standard deviation similar to the average and standard deviation of the scale weights. These results suggest that the mass estimation function on the food X-ray inspection system that was utilized could detect when part of a cereal bar was missing.
The testing was performed in a controlled setting where the products were placed on the conveyor by hand. In a production setting where there are more product inconsistencies, including variation in density, there will be a larger deviation between weights. The operator can choose the weight threshold at which they would like the bars to reject.
Conclusion
With the high growth of the snack and protein market, the last thing a manufacturer wants to see is a high growth in recalled products. One way to help alleviate that fear is to utilize the right, and latest, food safety technology, that can help ensure the health of the consumer, as well as the company.