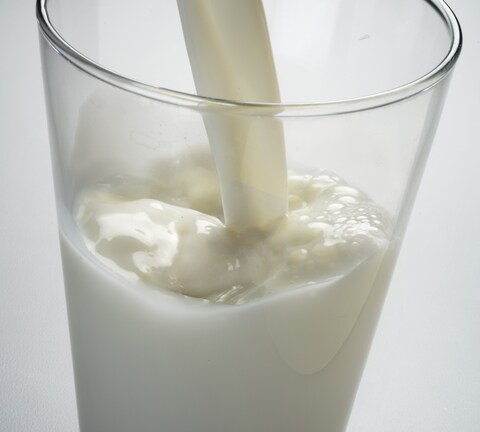 Intramammary infection (IMI), also known as mastitis, is the most frequently occurring and economically the most important infectious disease in dairy cattle1. Mastitis is caused by several different bacteria from contagious or environmental origins that invade the udder, multiply, and produce harmful substances and inflammation. Upon infection, mastitis reduces milk yield and alters milk composition. Depending on the severity, the infection can exist in dairy herds as either clinical or sub-clinical mastitis. Clinical mastitis is characterized by abnormal milk and visible abnormalities of the udder, such as hot and swollen quarters. Sub-clinical mastitis, the most common form of the infection, is not readily apparent and is often referred to as hidden mastitis3. Mastitis costs the U.S. dairy industry an estimated $2 billion annually, or about 11% of total U.S. milk production2. Currently, the most common methods for mastitis testing include somatic cell counts (SCC) and traditional bacterial culture, but these methods fall short when it comes to early detection of the infection, and the detection of growth-inhibited or non-viable microorganisms. New molecular methods based on real-time PCR have been developed to complement or overcome traditional testing methods and their shortcomings that offer a more convenient, cost effective way to manage the health of dairy cattle with quicker time to result. #PathoProofTM, a molecular, real-time PCR based system, can cut the time to result from up to ten days for organisms such as Mycoplasma, to four hours. See the schematic below to visualize the workflow.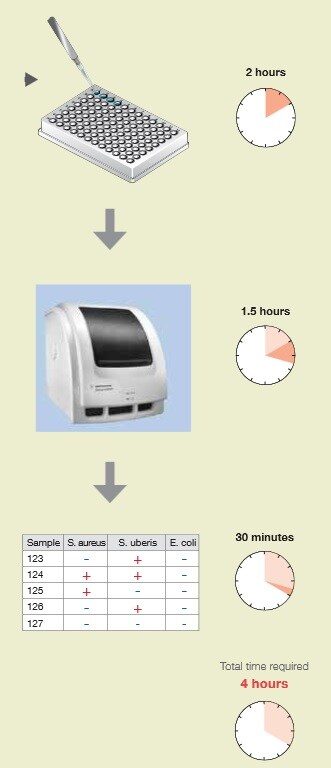 Figure 1. A schematic diagram of the Pathoproof workflow So who uses PathoProof, and what is it being used for?  What kind of equipment is needed to run the kits?  These frequently asked questions and more are answered below. Q1: Who can use the PathoProof™ Mastitis PCR Assay? The assay is intended for use in a laboratory. In other words, it is not a 'cow side' test. Any laboratory (for example bacterial culture laboratory or milk recording laboratory) can use the PathoProof Mastitis PCR Assay after product training. Installation of the assay and instrumentation involves detailed product training for the laboratory staff. Q2: Do I need to have a molecular biology background to start using the PathoProof Mastitis PCR Assay? No!  The PathoProof assay is designed to be easy to use for any laboratory personnel, even if they have no molecular biology or PCR experience. The method is very straight forward and the results are automatically reported through the Norden Lab Mastitis Studio software.  Q3: What laboratory equipment and reagents do I need for performing the PathoProof Mastitis PCR Assay? The main piece of equipment needed is the Stratagene Mx3005P® QPCR System, supplied by Thermo Fisher Scientific. In addition, you will need some basic laboratory instrumentation like a microcentrifuge, vortex, incubator and pipettes. All of these are included in the PathoProof Mastitis PCR Assay Starter Pack available from Thermo Scientific. The PathoProof Mastitis PCR Assay includes all the necessary reagents for DNA extraction and real-time PCR. Q4: Which real-time PCR instruments can be used with the PathoProof Mastitis PCR Assay? The Stratagene Mx3005P QPCR System should be the instrument of choice for use with the PathoProof Mastitis PCR Assay. The instrument should be purchased from Thermo Fisher Scientific directly. If a laboratory already has a real-time PCR instrument, the 7500 Fast Real-Time PCR System from Applied Biosystems and the Chromo4 Real-Time PCR Detection System from Bio-Rad Laboratories have also been validated for use with the assay. Q5: What kind of training does a laboratory need before it can start using the assay? After a laboratory has decided to start using the assay, our product specialist will provide detailed training for the laboratory staff. This is typically done in connection with installation of the real-time PCR instrument to the laboratory. The training takes approximately 3-4 days and involves analyzing milk samples from start to finish multiple times to gain some routine, as well as detailed training of the real-time PCR instrument and the software used for interpretation of the results. Q6: How many samples per day can I handle with the PathoProof Mastitis PCR Assay? One operator can test approximately 100–200 milk samples per day. Q7: What is the sensitivity and specificity of the PathoProof Mastitis PCR Assay, and how does that compare to the sensitivity and specificity of bacterial culturing? The analytical sensitivity and specificity (analytical accuracy in identification of well-characterized bacterial strains) of the PathoProof Mastitis PCR Assay has been shown to be 100% for all bacteria identified by the test1. This makes the assay the most accurate mastitis test ever developed. Q8: Which bacterial species does the PathoProof Mastitis PCR Assay detect? The assay detects all main mastitis-causing species and the β-lactamase penicillin resistance gene in staphylococci.  Large-scale prevalence studies indicate that >95% of all clinical and sub-clinical mastitis cases are caused by these species. Q9: Does the PathoProof Mastitis PCR Assay detect Mycoplasma? Yes. Mycoplasma bovis together with S. aureus and S. agalactiae can be identified with PathoProof Mastitis Major-3 Kit in just four hours. References
Koskinen, M. T., J. Holopainen, S. Pyörälä, P. Bredbacka, A. Pitkälä, H. W. Barkema, R. Bexiga, J. Roberson, L. Sølverød, R. Piccinini, D. Kelton, H. Lehmusto, S. Niskala, and L. Almikivi. "Analytical Specificity and Sensitivity of a Real-time Polymerase Chain Reaction Assay for Identification of Bovine Mastitis Pathogens." J. Dairy Sci.92 (2009): 952-59.
Jones, G. M., and T. L. Bailey, Jr. "Understanding the Basics of Mastitis." Virginia Cooperative Extension (2009): 1-5.
Oliver, Stephen P. "Best Management Practices to Reduce Mastitis and Improve Milk Quality." Penn State Cooperative Extension: College of Agricultural Sciences. EXtension, 2013. Web. 27 Dec. 2013. <http://www.extension.org/pages/22418/best-management-practices-to-reduce-mastitis-and-improve-milk-quality>.
What methods are you using to test the quality of milk for your dairy products and producers?  Please comment and let us know!