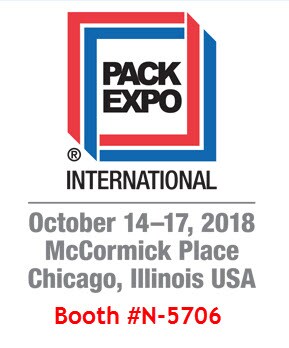 Are you getting ready to attend one of the largest packaging events of 2018? This year, PACK EXPO International is being held in Chicago from October 14 to 17, 2018, and is co-located with Healthcare Packaging. This event is expected to draw 50,000 packaging professionals and 2,500 exhibiting companies. (If you need admission to the exhibit hall, use comp code 12D52 with our compliments.)
Show representatives say that there will be packaging professionals from nearly every industry vertical attending the show.Attendees can witness the latest industry advances and see technology in action right on the show floor. This year's highlights include four pavilions: Package printing, containers and materials, confectionery, and reusable packaging.
The forum at PACK EXPO will feature free 45-minute open sessions on the latest industry trends, conducted by the Institute of Packaging Professionals and other packaging organizations. Each of the sessions will be followed by small-group discussions and Q&A sessions.
PACK EXPO is also known for its Innovation Stage presentations on the show floor. The Innovation Stage offers free 30-minute seminars on breakthrough technologies and techniques focused on a wide range of industry-specific solutions. In fact, I will be presenting a seminar titled "New broad-spectrum metal-detection technology improves sensitivity AND probability of detection" on Tuesday, October 16, at 3 p.m.
I'll be discussing broad-spectrum, multiscan metal detection, which is the newest technology for finding metal foreign objects in food. I'll explain how the evolution of metal detection technology has taken the industry from single-frequency, to multi-frequency, to today's multiscan technology—which provides unmatched sensitivity and the highest possible probability of detection.
If you miss this presentation, just stop by Booth #N-5706 to get a demonstration of the Sentinel multiscan metal detector, as well as other product inspection innovations in checkweighing, metal detection and X-ray inspection. Our experts will be on hand to discuss your concerns about ensuring the safety and quality of your packaged and unpackaged products.
We'll explain the reasons why metal detectors are best for metal contamination concerns with small, dry products; how an X-ray detection and inspection system might be best to find metals, glass, rocks, bones or dense plastic, or if you use metallic packaging; how checkweighers can help meet throughput and legal requirements while providing reliable weight control; and whether you need a right-featured checkweigher for your dry application. We will have samples at the booth to scan right on the show floor so you can watch the equipment in action.
If you'd like more details about food inspection and food safety technology, visit our PACK EXPO event page.
If you can't make it to the show, but want to learn more about packaged product inspection for the food industry, visit us our Food Manufacturing and Processing Learning Center website page. You'll find plenty of educational materials, application notes, white papers, infographics, and videos that can help you understand the latest technologies, including the latest and most advanced multiscan metal detector technology.(You can download the white paper now: Why Multiscanning Technology Improves Metal Detection and Food Safety). You can also follow the show twitter posts @packexposhow using #PACKEXPO, or visit their Facebook page.
Hope to see you there!
PACK EXPO International 2018
Oct. 14, 2018 – Oct. 17, 2018
Booth #N-5706
McCormick Place | Chicago, IL
Tuesday, Oct. 16, at 3 p.m
Innovation Stage Presentation:
"New broad-spectrum metal-detection technology improves sensitivity AND probability of detection"