CIBUS TEC touts itself as being among the most innovative food technology exhibitions that offers a complete showcase of the best solutions – from ingredients to processing technologies, from packaging to logistics – for all segments of the food and beverage industry. And we expect this "International Food Processing & Packaging Exhibition from the heart of the Italian Food Valley" to live up to expectations since it is anticipated that over 35,000 global professionals from the food and beverage industry will be roaming the 120,000 sqm show floor.
The show floor is so expansive because it needs to accommodate the over 1,000 suppliers with their equipment and displays, along with those attendees. Thus, you will want to carefully plan your visit to the exhibitor area so you can get all the information you need to help your food operations run more efficiently. In order to help your navigation, show officials have organized the hall into eight sections:
Processing technologies for dairy products (ice cream and desserts), meat, seafood and ready meals.
Ingredients
Bottling, filling, and processing technologies for beverages and liquid food
Special projects area and Congress Center
Processing and packaging technologies for fruits and vegetables
Food safety, food analysis and laboratories
Packaging, labelling, coding, marking, end-of-line, handling, logistics, automation, materials
Processing technologies for bakery, cereals, snacks, and confectionery
Stop by our booth in the Packaging section — Hall 2, #D050 — and discover the latest innovations to help ensure the safety and quality of your packaged and unpackaged products. You will see first-hand the latest in multiscan metal detection, checkweighing, and x-ray inspection technologies. (Need a ticket for admission to the show floor? Click on the link and fill in this form to receive your free admission ticket to enter CIBUS TEC.)
Food metal detectors that are equipped with Multiscan, multi-frequency, technology enable operators to pick a set of up to five frequencies, from 50 kHz to 1000 kHz. The technology then scans through each frequency at a very rapid rate. Running five frequencies helps make the machine close to ideal for detecting any type of metal you might encounter. Sensitivity is optimized, as you can choose to run the optimal frequency for each type of metal of concern. The result is that the probability of detection goes up exponentially and escapes are reduced, especially when working with tough applications like baked goods, snack, dairy and meat.
We'll be demonstrating our latest technology that combines multiscan metal detection and checkweighing in a compact system. This combination system reduces the total footprint while combining important functions like program changes, alarms and rejection statistics.
Take the opportunity to speak to our applications experts about any of your package product inspection needs. Our team will be available to discuss how we can collaborate with you to solve some of your production, processing, and quality concerns.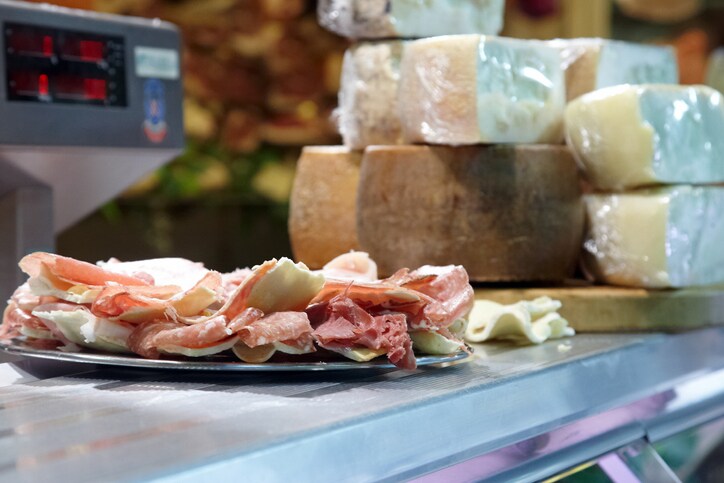 Parma is a great place to hold this event. It is a riverside city in northern Italy, famed for its Parmesan cheese, Parma ham, and Barilla pasta. There are over 1200 food companies and 200 food technology companies in the Parma area. A few years ago, the New York Times, recommended a visit to this city for a total cultural experience:
Numerous traditional restaurants and fine-food boutiques assure that no belly goes empty, and on Parma's outskirts you'll find museums related to everything from cured pork products to tomatoes. But the city, which was home to talents as diverse as the Renaissance painter Correggio and the 20th-century conductor Arturo Toscanini, also nourishes other appetites — religious, artistic, theatrical, musical, historical — given its wealth of ornate churches and monasteries, an excellent fine-arts museum, and a celebrated theater.
We hope to see you there, but if you can't make it, you can learn more about food weighing and inspection equipment and the latest innovations to help ensure the safety and quality of your packaged and unpackaged products on our website. You can also follow the show happenings on twitter using the hashtag #cibustec.
Show Details:
CIBUS TEC
Oct 22, 2019 – Oct 25, 2019
Hall 2, #D050,
Fiere di Parma, Italy
Click on the link and fill in this form to receive your free admission ticket to enter CIBUS TEC.