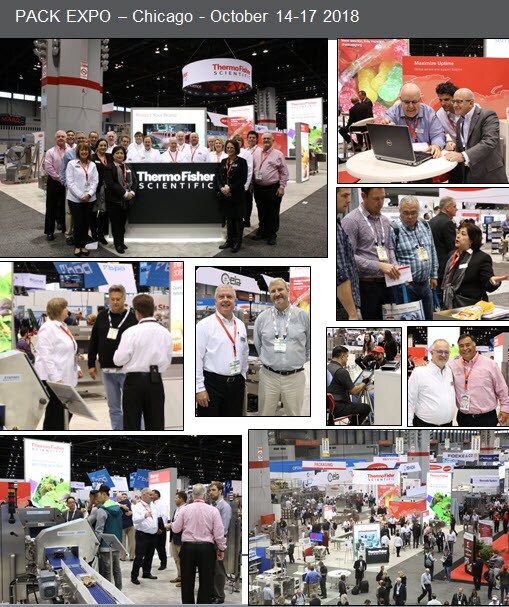 Quite the crowd gathered at our Pack Expo booth last month, and it seemed like everyone interested in packaged product inspection wanted to get a demo of new multiscan metal-detection technology, which scans five frequencies at a time for unmatched sensitivity and the highest possible probability of detection.
This broad-spectrum multiscan metal detection, which is the newest technology for finding metal foreign objects in food, was quite the buzz. If you were at the booth, you learned from our subject-matter experts that the evolution of metal-detection technology has taken the industry from single-frequency, to multi-frequency, to today's multiscan technology—which provides unmatched sensitivity and the highest possible probability of detection.
Since working equipment was right in the booth, attendees could watch various packages move through a multiscan metal detector as well as checkweighing and X-ray inspection equipment. If you missed the show, here are a few photos we posted on social media, and a link to the video taken on the show floor.
In addition, if you missed the Innovation Stage presentation "New broad-spectrum metal-detection technology improves sensitivity AND probability of detection," feel free to download the slides. You'll learn about:
the history of metal detection
contamination threats to the food supply chain
recalls and causes
the three things that make metal detection challenging in the real world
how signals are generated in a metal detector
what a phase angle is and its common problems
the evolution of frequency of operation
the best frequency for detection (or is there a best?)
the next generation of multiscan technology
real world examples
the probability of detection
how to reduce false rejections, reduce noise and improve performance
testing processes and considerations
comparison with x-ray technology
If you want to learn more, visit our Food Manufacturing and Processing Learning Center page. You'll find plenty of educational materials, application notes, white papers, infographics and videos that can help you understand the latest technologies, including the latest and most advanced multiscan metal-detector technology.