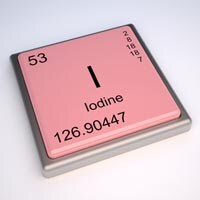 Although perchlorate ions (ClO4–) are found naturally, they can also signal environmental contamination from rocket fuels, munitions, fireworks manufacturing or storage. In the US, contamination of ground, surface and drinking water has been traced back to both military and manufacturing sites. This persistence in the environment leads to contamination of vegetation.
Once excess perchlorate enters the food chain, it disrupts dietary iodine uptake by the thyroid gland leading to iodine deficiency syndrome. Iodine itself is necessary for normal growth and development in many mammals including humans. Taken up by the thyroid gland, iodine is used for production and secretion of thyroid hormones that control growth and mental function. Where iodine uptake is disrupted, the thyroid gland enlarges in the condition known as goiter.
While water is relatively easy to assay for perchlorate levels, preparing a soil or vegetable matrix is more complicated. However, researchers have developed a rapid solvent extraction method that involves subjecting samples to heat and pressure before analyzing by ion chromatography (IC). Following overnight sample incubation in Thermo Scientific Dionex extraction media at 4°C, they report extraction times of 5 minutes each, with IC sample run times of 30 minutes.
Using a Dionex Accelerated Solvent Extractor system, samples were extracted at 80°C at 1500psi. After the accelerated solvent extraction step, extracts were filtered through a polyethersulfone syringe filter then analyzed using a Dionex ICS-2500 IC System. The data were evaluated using Dionex Chromeleon software.
Recovery of spiked samples from the test matrices varied between 89% and 119%, with reported Relative Standard Deviations between 1.6% and 8.9 % over five replicates. The resulting chromatograms compared with unspiked sample runs showed well-resolved perchlorate peaks without sample-related interferences. Moreover, in addition to giving reproducible results, these assays effectively measured low analyte levels in the parts per billion range making them suitable for perchlorate estimation in a variety of samples.
To read the full application note, please follow the link: http://www.dionex.com/en-us/webdocs/114729-PN70743_HPLC13.pdf. Do you work in this field? Was this useful? Let us know what you think.