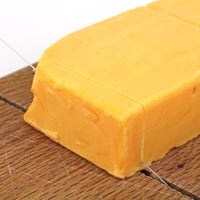 Microbes permeate the entire cheesemaking process. In the first stages, lactococci predominate, followed by secondary microflora once the growing conditions become more challenging.
These mesophilic non-starter lactic acid bacteria (NSLAB) primarily consist of various strains of lactobacilli (Lactobacillus paracasei, L. plantarum, and less commonly, L. curvatus, L. casei, L. brevis and L. rhamnosus). Cheesemakers may also add secondary microflora (Penicillium roqueforti, Penicillium camemberti, Brevibacterium linens or Propionibacterium freudenreichii) to enhance the flavor or develop preferable characteristics in the ultimate cheese product.
One current area of research is the use of adjunct lactobacilli to facilitate desirable cheese development, including accelerated ripening, probiotic potential, and enhanced flavor. Lactobacilli may also inhibit the growth of adventitious microflora that may cause premature spoilage of the product. Recently, Lynch et al.1 evaluated adjunct Lactobacillus amylovorus (L. amylovorus DSM 19280) cultures for its ability to extend the shelf-life of cheddar cheese.
Researchers used liquid chromatography-Fourier transform mass spectrometry (LC-FTMS) (Thermo Scientific) to quantify the antifungal properties of L. amylovorus DSM 19280 against spoilage molds, including Aspergillus fumigatus, A. niger, Fusarium culmorum, P. expansum and P. roqueforti. They selected L. amylovorus DSM 20531 as a negative control. Using a specific extraction protocol and LC-FTMS in negative ionization mode, the researchers identified 25 known antifungal compounds and eight novel antifungal compounds.
Lynch et al. found that all samples demonstrated typical starter microflora that declined during ripening. The samples with adjunct lactobacilli possessed higher moisture levels as compared to the controls. The researchers note that increased moisture has been previously linked to superior cheese texture.2 The results also indicate that samples containing adjunct L. amylovorus DSM 19280 inhibited both indicator and environmental molds. In fact, the samples with this NSLAB restricted the growth of one target mold (P. exansum) for 12 days, which was four days longer than the controls. L. amylovorus DSM 19280 also inhibited the growth of airborne environmental mold for up to 18 days, which was six days longer than the controls. The researchers found no difference in the peptide profiles or proteolysis patterns for the samples containing adjunct lactobacilli as compared to the controls. The samples with L. amylovorus demonstrated slightly higher concentrations of free amino acids and call for further investigations into whether this may influence the savor and aroma of cheese products.
Overall, they determined that L. amylovrous DSM 19280 is an antifungal strain with the potential to serve as a natural preservative and lengthen the shelf-life of cheddar cheese without negatively impacting the quality of the cheese itself.
References
Lynch, K. et al. (2014) 'Application of Lactobacillus amylovorus as an antifungal adjunct to extend the shelf-life of Cheddar cheese.' lnternational Dairy Journal, 34 (167-1730)
Mozzi, F. et al. (2006) 'Diversity of heteropolysaccharide-producing lactic acid bacterium strains and their biopolymers.' Applied and Environmental Microbiology, 72, 4431e4435
What do you think? Is this a field you work in? Let us know your views, or share this with a colleague.