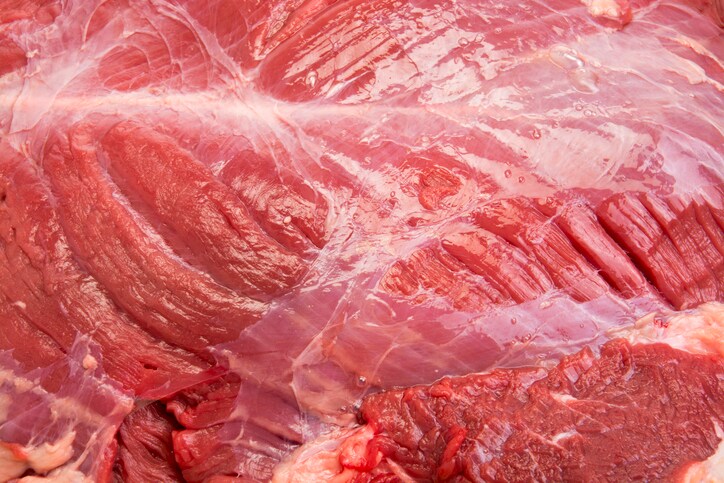 We recently wrote about how inspection of meat products with metal detection technology can be difficult because of product effect — meaning they have conductive properties that can mimic a foreign object, and cause the detector to incorrectly signal a physical contaminant. But with multiscan metal detection technology, those challenges can be overcome. (Read Overcoming the Metal Detection Challenge of Meat's Physical Properties.)
Beef and pork, however, have an additional challenge because they often arrive at processing facilities in slabs: large, frozen, uneven chunks. The slabs require inspection because they can include buckshot, hooks or other large metal contaminants that will damage grinding and slicing machines downstream.
Multiscan metal detectors can scan a combination of up to five user selectable frequencies to provide unmatched sensitivity and the highest probability of finding ferrous, non-ferrous, and stainless steel metal contaminants in difficult meat applications.
In addition, large-aperture metal detectors make a great first line of defense for coarse inspection and are commonly used. A challenge with this approach, however, is that the incoming slabs may not be consistently frozen before inspection, which can change the product effect seen by the metal detector. Without addressing this "drift", the metal detector will eventually produce a false reject, requiring the detector to relearn the product. This causes downtime and intervention by a skilled operator.
To illustrate the product effect changes during thaw, data was gathered on a 3 lb beef slab that began frozen solid and was then thawed for 45 minutes. The results are summarized below:

The graphic shows as the slab thaws over time, both product signal and phase angle change substantially. These changes could result in false rejects over this time period.
This additional difficulty can be compensated with 'auto learn' technology' — a routine in the multiscan metal detector that can adjust to the change in product signal. This technology accepts multiple products at various temperatures both clean and with the target contaminants. To optimize set up, the data from this product then automatically sets all the operating parameters.
By teaching the metal detector in this way it is possible to quickly arrive at a set up that could otherwise take a skilled technician many hours or even days to complete. Once in production, it is a fast process to review recent reject data to see if it is necessary to adjust a parameter to eliminate false rejects.
To handle phase changes over time, the metal detector should utilize a phase tracking capability. Tracking works by automatically adjusting the product phase in real-time as the meat is inspected. Information from uncontaminated meat is fed back using a proprietary algorithm, maintaining performance as the ratio of conductive and magnetic product signals change. The result of this smart, adaptive software is that user intervention is eliminated, and throughput is maximized. This is true even in difficult variable product effect meat applications.
For more details about inspection in the meat processing industry, read our application note, Foreign object detection challenges in meat processing.
Post Author: Marlene Gasdia-Cochrane.