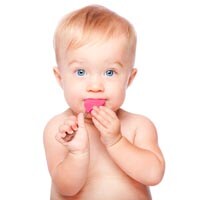 Recently, scientists at Thermo Fisher Scientific developed a method to detect and quantify multiclass veterinary drug residues in meats using state-of-the-art ultra fast chromatography with high performance triple quadrupole mass spectrometry1. The scientists involved in this demonstration adapted their analysis from a previous study by Mol et al.2 which involved food samples spiked with analytes of interest, followed by mass spectrometry .
One advantage of this protocol using high-performance liquid chromatography (HPLC) is that very little sample cleanup is required. Samples of pork baby food were ground, diluted and shaken vigorously in a sonication bath. The samples were centrifuged and the supernatant was collected, filtered, and transferred into HPLC vials for analysis. Milk samples were prepared in a similar fashion. Liquid chromatography was performed using a Dionex UltiMate 3000 HPLC Stack, Pump: HPG 3400RS, TCC3000 Autosampler OAS-3X00TXRS, and Accucore C18 columns.
The high sensitivity of the TSQ Quantiva triple stage mass spectrometer required only a small amount of the baby food and milk samples for analysis, without sacrificing the overall sensitivity of the analysis. Following mass spectrometry, TraceFinder software was used to evaluate data and calculate results. TraceFinder provides a simple interface to locate positive hits and identify problems with a particular sample. This analysis was free from interferences, surpassed the current regulated maximum residue limits, and provided a simple method of accurately analyzing multiple classes of veterinary drugs.
References
Analysis of Multiclass Veterinary Drugs in Baby Food by Ultra Fast Chromatography with High Performance Triple Quadrupole Mass Spectrometry: http://apps.thermoscientific.com/media/cmd/ASMS-TNG-Roadshow/TNG/resouces/PN_ASMS13_W369_CYang.pdf
Mol, H.G.J., et al. (2008) "Toward a generic extraction method for simultaneous determination of pesticides, mycotoxins, plant toxins, and veterinary drugs in feed and food matrixes.", Analytical Chemistry, 80, (pp. 9450-9459)
All products and software used were from Thermo Scientific.If you'd like more information on these, or the method used, let us know.