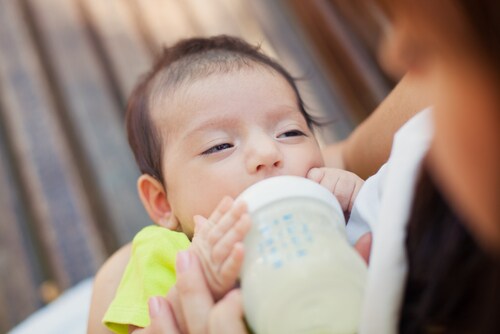 One simple, effective way to enhance access to micronutrients is food fortification or supplementation. This requires technology that measures vitamin levels quickly and accurately. Researchers evaluated high performance liquid chromatographic separation (HPLC) coupled with corona-charged aerosol detection (C-CAD) for this purpose.
To do this, Marquez-Sillero, I. et al.1 used distilled water to prepare stock samples of seven water soluble vitamins: thiamine, folic acid, nicotinic acid, ascorbic acid, pantothenic acid, pyridoxine and biotin. They purchased samples of infant milk (liquid and powder) and dietary supplements (pills and capsules) for analysis. Due to the complexity of the biological matrix, the milk samples required precipitation with 2.5 M acetic acid. For separation, they used an HPLC system and an RP-C18 column (5 μm, 250 mm×4.6 mm) with isocratic elution. The mobile phase was 0.05M ammonium acetate:methanol 90:10 (v/v) with a 0.5 mL min-1 flow rate. For detection and quantification, the team used C-CAD instrument (Thermo Scientific).
Using the stock solutions, the researchers plotted concentration (mg L-1) against peak area to construct calibration curves. They analyzed each standard solution in duplicate with concentrations that varied from 0.5 to 200 mg L-1. The range for detection limits was 0.17 to 0.62 mg L-1 for dietary supplements and 1.7 to 6.5 mg L-1 for infant milk samples. The range for method precision was 1.8 to 5.7% for repeatability and 1.9 to 8.7% for reproducibility. For all dietary supplement and infant milk samples, the values determined using this method were in good agreement with the manufacturer's values.
Overall, Marquez-Sillero et al. found that HPLC-C-CAD method to be robust and reproducible. The detector, in particular, allows for the simultaneous detection of all compounds that are less volatile than the mobile phase without the addition of a chromophore. This, along with its cost-effectiveness, is a major advantage of C-CAD over UV detection. Finally, the rapid separation method (under 15 minutes) and user-friendly instrument establish this method as an excellent option for simple, accurate quality control for the food and pharmaceutical industries.
For further discussion on food safety and quality testing, visit our food and beverage learning center.
Reference:
1 Marquez-Sillero, I. et al. (2013) 'Determination of water-soluble vitamins in infant milk and dietary supplement using a liquid chromatography on–line coupled to a corona-charged aerosol detector.' Journal of Chromatography A, http://dx.doi.org/10.1016/j.chroma.2013.05.015