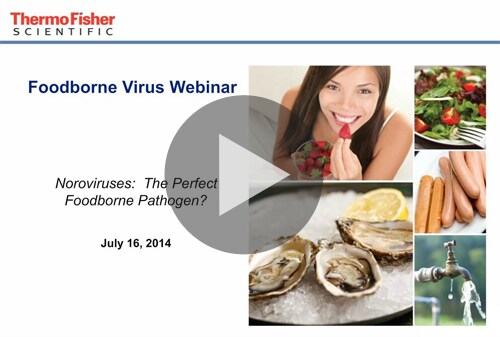 However experienced you are in the food industry, this webinar will open your eyes to how perfect Norwalk virus and other noroviruses are in their role as foodborne pathogens. For example, viral output during the height of the infection can run into a billion viral units per gram of feces, and those in vomit can aerosolize. Common food processing methods scarcely dent infective load, hand sanitizers are unreliable, and food handlers are the most common source for viral contamination.
Presented by Dr. Lee-Ann Jaykus, a food safety and virology expert with North Carolina State University and a scientific director in the USDA-NIFA NoroCORE collaborative project, the webinar covers virus biology and pathogenicity, in addition to current research on control measures applicable to the food safety industry.
Virus Biology
Norovirus is a simple RNA virus belonging to the Caliciviridae family. It is surrounded by a single-protein capsid and stable in the environment, persisting on surfaces for more than six weeks. Furthermore, it resists most common cleaning procedures using solutions at recommended strengths. It is easily transmitted from person-to-person, through ingestion of virus particles. Viral shedding comes from infected patients and also asymptomatic carriers. Once infected, there is a brief period of immune protection, but since the virus mutates regularly, protection is seldom maintained.
History
But why is norovirus such an important pathogen in foods? Foodborne viruses as a group cause more cases of food-related illness than bacteria, parasites, and chemicals combined, with norovirus causing more than 50% of outbreaks in the United States according to statistics provided in a Centers for Disease Control and Prevention report. According to a report by the Robert Wood Johnson Foundation, complex foods such as ready-to-eat meals were three times more likely to be implicated as causal in norovirus cases than any other food-norovirus combination reported to authorities. Furthermore, the World Health Organization (WHO) classifies norovirus and hepatitis A virus right at the top of the list in priority group #1 for health concerns in foodborne illness.
The Perfect Pathogen?
Dr. Jaykus considers norovirus as close to perfect as a foodborne pathogen. The virus is resistant to many common forms of disinfection, sanitization and food preparation practices: norovirus can withstand standard temperatures used for pasteurizing milk, and is not inactivated at common strengths of chemical disinfectants. It persists easily in the environment, possibly beyond six weeks in the right conditions, and it is stable in water. The infective dose is only 20 virus particles and it is easily transmissible by person-to-person contact, or via food contaminated by handlers, preparation procedures or rinse water, for example. Although the disease course is acute and explosive, patients usually recover within 48 hours. Mortality is rare but, as described in the opening paragraph, viral shedding is copious, even from asymptomatic infections. Although a mild immune response is stimulated, protection is not long lasting and noroviruses mutate regularly.
Food Safety
Within food industry practice, there are guidelines for detection and control. Virus detection usually involves polymerase chain reaction (PCR) identification and control procedures include strict hand washing protocols for food handlers. Although determining the exact point in the chain that contamination occurs is frequently not possible, it is suspected that the majority comes from handling the product during processing or serving. However, although norovirus persists on food, it cannot multiply in these matrices.
Although norovirus is difficult to research in the lab – there is no good small animal host species and it cannot be cultured in vitro – Dr. Jakus notes that research into detecting and controlling this serious foodborne pathogen is ongoing. More effective sanitation protocols are under development and companies such as Thermo Fisher Scientific have real-time PCR workflows for isolating and detecting the virus within food matrices and from environmental swabs.
As always, vigilance and following standard operating procedures developed for maintaining food safety are vital for preventing spread of this near-perfect pathogen. Watching this webinar will boost your knowledge and awareness, helping you keep your part of the food chain norovirus-free.
Watch the free to view webinar Noroviruses: The Perfect Foodborne Pathogen?
Further Reading 
Food and Drug Administration (2012). Bad Bug Book, Foodborne Pathogenic Microorganisms and Natural Toxins. Second Edition. [Noroviruses, pp. 168-72]
Maxwell, A. (2015) "Salmonella and Norovirus in Berries – A Growing Health Concern", Examining Food
Mayer, M.J. (2015) "Foodborne Illness: Control Strategies for Fresh Produce Pathogens", Examining Food
Various authors – Accelerating Science: Examining Food articles on foodborne pathogens