food safety
executives who decide which technology – metal detector or X-ray inspection – will best identify contaminants, choosing a food detection system is typically based on three things: the optimum detection point in the process, overall application capability and total cost/benefit.
Companies typically use Hazard Analysis Critical Control Point (HACCP) methodology to manage their food safety. According to the U.S. Food and Drug Administration (FDA), "HACCP is a management system in which food safety is addressed through the analysis and control of biological, chemical, and physical hazards from raw material production, procurement and handling, to manufacturing, distribution and consumption of the finished product." This systematic approach helps identify, evaluate, and control food safety hazards.
The first part of the process, Hazard Analysis (HA), identifies which food contaminants are most likely to occur and reasonably likely to cause injury or illness if not effectively controlled. Next is the determination of the Critical Control Points (CCP), any step where hazards – such as contaminants – can be prevented, eliminated, or reduced to acceptable levels. CCPs can occur in multiple places: at the beginning of the process; after cutting, sifting or mixing; immediately after a bag or box is filled; or at the end of the line. Ideally, the goal is to find problems early in the process to reduce the cost of rework or scrap while still ensuring the final product is safe. Inspecting large cases immediately prior to shipment, for example, is not always the right decision.
The optimum detection point can influence which food inspection technology to employ. Metal detectors can be installed almost anywhere in the process, but their performance depends on the size of the aperture (hole) the product passes through. In general, they work best for bulk conveyed or piped product or products in small packages. X-ray systems are dependent on product size, too, but have greater sensitivity with large products than metal detectors. Due to their basic detector sensor scanning rate, X-ray systems are limited by speed and are typically found closer to the end of the line. Because X-ray systems need constant, known speed to construct images, they cannot be used in gravity flow applications. Metal detectors, however, are ideal for these types of products.
Once you identify potential contaminants and their sources and know your optimum detection point you can determine whether metal detection or X-ray is the right choice. Here is a chart outlining the differences between metal detection and x-ray inspection technology.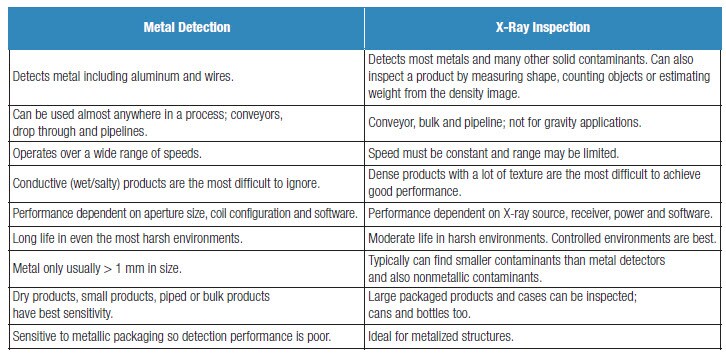 Given that so many factors can affect application performance, the best way to select a technology and specific system is to run a test. Try everything to make the system fail. Strive for near 100% probability of detection with no false readings. Make sure you have enough detection margin so the system can run trouble free for hours without false rejects or the need for re-calibration.

Only after testing will you be able to determine the optimum technology to meet the challenges of your optimum detection point.

For addition information, read the white paper: What food processors should know: metal detection vs. X-ray inspection

For food quality professionals, process engineers and corporate