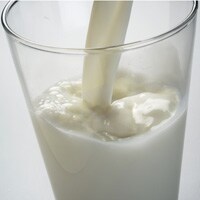 The quality of milk products is assessed by more than just their nutrient composition. Since dairy is an important food group for vulnerable sectors of the population – the elderly, infants and pregnant women – ensuring species of origin and freedom from potentially toxic adulterants is vital to maintain consumer confidence and health. High resolution accurate mass liquid chromatography/mass spectrometry (HRAM LC/MS) shows potential for monitoring dairy product quality.
Certain types of milk are classed as premium. For example, goat and sheep milk is often preferred by consumers with allergy or intolerance issues. Therefore, diluting it with cheaper cows' milk is both fraudulent and risks hypersensitivity reactions. Dilution is also a concern for organic milk since it can be sold at a higher price; fraudulent producers extend the product with cheaper, conventionally-produced milk to boost profits.
Hrbek and co-authors1 assess HRAM LC/MS for analyzing milk, measuring its suitability for determining species of origin and presence of additives. They focused on three areas to test – species of origin, difference between organic and conventional milk, and use of non-dairy adulterants.
Their method involves extracting triacylglycerols (TCA) from milk with methanol or toluene, centrifugation and then analyzing the unique, species-specific TCA profiles by direct analysis in real time (DART)-HRAM LC/MS. Samples included milk from cows (organic and conventional), sheep and goats, in addition to cow's milk soft cheese samples spiked with non-dairy (vegetable) oil.
Extracted samples were analyzed using a DART-SVP ion source coupled to Thermo Scientific Exactive benchtop mass spectrometer. Spectral data were analyzed using Thermo Scientific Xcalibur software.
Once the method was validated, Hrbek et al. found that DART-HRAM shows good discrimination between the three different species studied with clearly defined data clustering. Moreover, the clustering identified goat and sheep milk diluted with cow's milk at levels of 10% and 50% v/v.
When examining the soft cheese samples spiked with vegetable oils, the researchers found that levels as low as 1% adulteration could be detected. The TAG profiles of vegetable oils and bovine milk differ significantly and this was picked up by DART-HRAM analysis. Interestingly, the team also found that vegetable oil quality could also be assessed with this method. Samples spiked with heat-treated rapeseed oil as an example of a cheap potential additive gave data consistent with presence of oxidized TAGs.
In summary, DART-HRAM LC/MS shows potential for identifying species of origin, in addition to presence of adulterants commonly used to extend dairy product.
References
1. Hrbek, V. et al. (2013) "Authentication of milk and milk-based foods by direct analysis in real time ionization-high resolution mass spectrometry (DARTeHRMS) technique: A critical assessment," Food Control 36 (2014) (pp. 138-145) accessed http://dx.doi.org/10.1016/j.foodcont.2013.08.003
Have you found this interesting? Let us know, and share with a colleague.