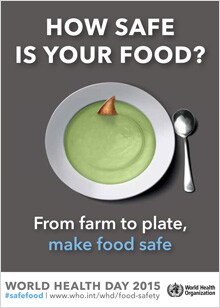 According to the World Health Organization, "Unsafe food is linked to the deaths of an estimated two million people annually – including many children." So it is fitting that one of the WHO campaigns for World Health Day – April 7, 2015 – deals with food safety.
According to WHO, World Health Day is an "opportunity to alert people working in different government sectors, farmers, manufacturers, retailers, health practitioners – as well as consumers – about the importance of food safety, and the part each can play in ensuring that everyone can feel confident that the food on their plate is safe to eat." In celebration of World Health Day, WHO is promoting its five keys to safer food and practical guidance to vendors and consumers for handling and preparing food. The five keys are:
Key 1: Keep clean
Key 2: Separate raw and cooked food
Key 3: Cook food thoroughly
Key 4: Keep food at safe temperatures
Key 5: Use safe water and raw materials
Protecting the public from harmful bacteria, viruses, and parasites that might contribute to unsafe food is a challenge. But another challenge is protecting food from contaminants that can enter the production process. The food production industry is run on machinery – machinery made of metal, glass, and plastic parts that can sometimes break off and end up in food that is packaged. These contaminants can be just as hazardous to health as bad bacteria.
There are precautions that food manufacturers can take in order to avoid these contaminants. Metal detectors and x-ray machines can be installed in various places along the production line. Metal detectors use high frequency radio signals (50 – 700 KHz) to detect the presence of metal in food or other products. A digital signal processing system analyzes certain signals and sends an alert if metal is present. X-ray inspection systems offer image analysis for critical quality verifications by creating grayscale images corresponding to density. The X-ray system can find virtually any substance that is denser or sharper than the object containing it.
Inspecting your products to find contaminants is critical to ensuring food safety. The latest technologies in metal detection and X-ray inspection for food applications can play an important role in protecting consumer health and safety.
It reads on the WHO website, "As our food supply becomes increasingly globalized, the need to strengthen food safety systems in and between all countries is becoming more and more evident. That is why the WHO is promoting efforts to improve food safety, from farm to plate (and everywhere in between) on World Health Day, 7 April 2015."
The production facility is situated in that 'everywhere in between' place, right in the middle of the farm-to-plate process. We need to ensure that contaminants that can incur inside the facility stay off the dinner plate.
For more details on verification, risks, and food safety solutions, read the entire White Paper written in cooperation with The Acheson Group: Verification: Can Your Food Safety Plan Meet the Rigors of FSMA's Proposed Preventive Controls? To read more about metal detectors and x-ray inspection in food production, read the white paper: What food processors should know: metal detection vs. X-ray inspection.