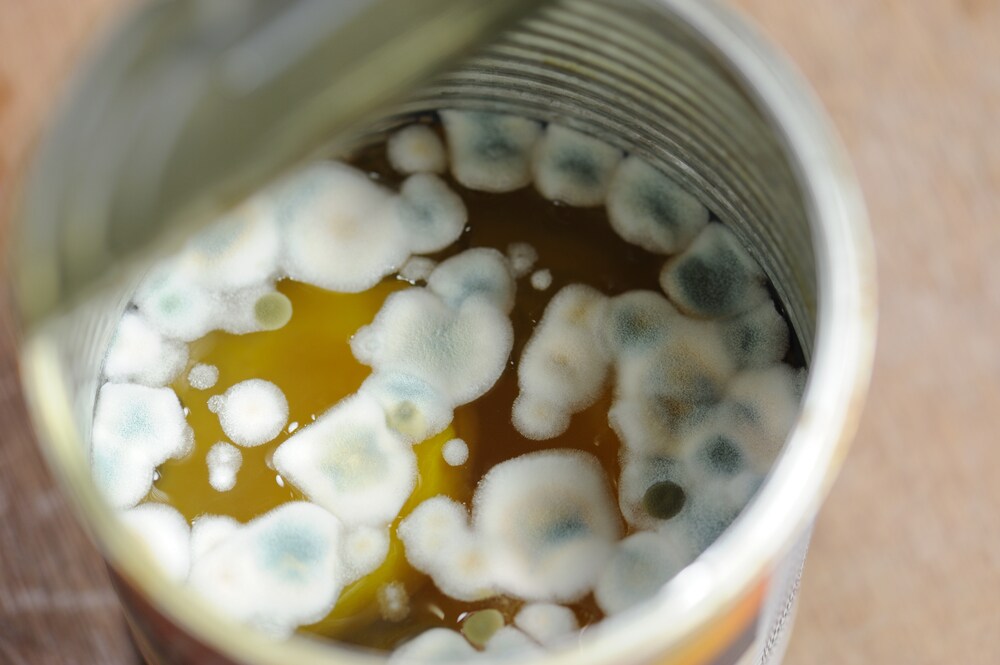 Yeasts and molds are members of planet Earth's "cleanup crew" and are highly efficient at taking care of old and spoiled food. While their place in the food chain is an important one, these microorganisms can pose a huge problem to food manufacturers when they claim otherwise good food.
Large economical loss, both to the producer and consumer, can occur from premature spoilage. It has been estimated that 5-10% of food is wasted and must be thrown out due to fungal contamination. Because consumers expect the food they eat is safe, reports of food contamination can also tarnish the reputations of food manufacturers and make it more difficult to maintain clientele.
Understanding how mold and yeast enters into the commercial sector is one method of preventing serious contamination on a larger scale. Within the environment, yeasts are found on the surface of water. Both yeast and water spores are released into the air, which can then contaminate raw materials. Inadequate cleaning of machinery as well as unclean packaging, particularly cardboard, can also be a source of contamination. These microorganisms are fairly tolerant to a wide range of pH levels and temperatures, with some strains able to survive in low or high temperatures (from 0 – 47˚C). Yeasts and molds also have a low water activity tolerance, which means they can survive with a low amount of water available. They can also contaminate through unclean water. Moreover, yeasts and molds can also be resistant to decontamination processes using bactericidal treatments.
Careful monitoring and detection strategies help prevent high levels of yeasts and molds that can cause deterioration of food. One method of detection involves sampling and culturing to see if any microorganisms are present. This is one of the most widely practiced and preferred methods of testing for many. It can also be applied to many different types of foods. A major drawback is that it can be a lengthy process, as it can take up to 5 days for the cultured specimen to grow. Thermo Scientific's Oxoid and Remel ranges of culture media include a number of different formulations suitable for culturing yeasts and molds, as well as selective agents important for limiting bacterial growth that would otherwise occur during the typically long incubation periods required.
Fluorescence microscopy is another method of monitoring microorganisms. Drink manufacturers such as breweries use this method for enumeration of yeasts. One difficulty associated with this option, however, is the technical experience and expertise required to complete the fluorescence staining and interpret the results.
Rapid PCR methods are increasingly growing in popularity. Instruments such as the Thermo Scientific family of PCR instruments and the BAX® System Yeast and Mold PCR Assay, distributed alongside the Thermo Scientific portfolio in Europe, Canada, Australia and New Zealand, can save time by providing results in just one day with only minimal training.
While dealing with yeast and mold contamination is certainly not a new problem, technological solutions to the problem are ever evolving with ease of use and efficiency in mind.
Learn more about  food quality monitoring in our food and beverage learning center.