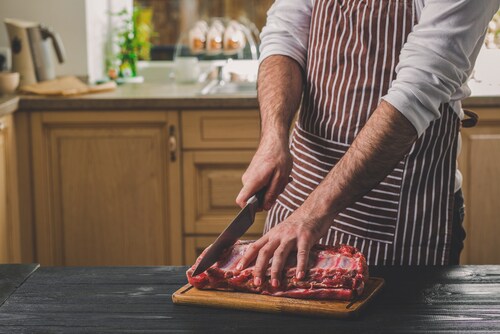 Most people are familiar with the old expression "you are what you eat." But most will probably be unaware that this includes responsibility for food safety. The food industry provides a safe, high-quality product, but it is up to the consumer to make sure that the safety chain doesn't get broken. However, although consumers carry responsibility for food safety in the home, this doesn't mean that food industry members can ignore what they cannot control; understanding how consumers approach food safety could help reduce foodborne disease (FBD) risk.
For example, a recent paper found that consumer behavior impacts FBD pathogen survival, even when consumers follow recognized cooking practices. De Cesare et al. (2017) examined the effect of typical domestic food-handling practices on pork loin chops experimentally contaminated with microbial pathogens.1 They found that the way the consumers cooked the pork influenced FBD risk by letting dangerous microbes survive.
The researchers mimicked surface contamination by inoculating the pork chops with Salmonella and Listeria monocytogenes. They then tested various cooking methods, measuring microbial survival to predict contamination in leftovers and therefore likely the risk of illness.
Even when the internal temperature of the meat rose to 165°F, pan frying the pork chops was not enough to reduce microbial burdens sufficiently. This meant that despite prompt refrigeration, enough bacteria survived to multiply to pathogenic levels; only cooking to well done in a static oven reduced pathogen loads enough to avoid disease risk following storage.
Nesbitt and coauthors (2014) reviewed published food safety research reports on Canadian consumer behavior to identify key areas that the food industry and federal regulators can target to promote consumer best practice.2 They analyzed findings according to the "clean, chill, separate, cook" structure that a lot of consumer food safety advice is built around:
Clean: wash or peel produce to remove surface contamination, and keep kitchen prep areas and tools clean.
Chill: promptly refrigerate food items prone to spoilage at room temperature, with attention to correct operating temperatures for fridges (40°F or below) and freezers (0°F or below).
Separate: use different kitchen tools, surfaces, prep areas and storage zones to prevent cross-contamination.
Cook: ensure adequate temperature and duration to destroy spoilage microbes and pathogens; for meat this generally means raising the internal temperature to 158°F for two minutes.
While these guidelines fall under consumer responsibility, understanding where these steps break down helps the food industry implement strategies that boost food safety and thereby maintain brand reputation. For example, producers can use labeling to educate consumers on safe preparation and storage, and alert them to allergens, best before and use by dates, and other safety factors identified from food risk assessments.
The United States Department of Agriculture (USDA) takes consumer food safety into the digital age with its FoodKeeper app. Aggregating data from food recalls, product information codes and public food safety education, the app gives consumers food safety advice at their fingertips.
Through public health education, federal regulators and the food industry can also let consumers know if a product is unsuitable for high-risk or vulnerable groups such as pregnant, aged, infant or immunocompromised individuals. Special alerts can accompany products known to carry higher risk of certain FBD pathogens, such as Listeria in soft cheeses and, until recently, Salmonella in raw or undercooked British eggs.
By knowing where food safety might break down in the home, food industry regulators and members can specifically target education efforts to keep consumers safe. Understanding food preparation and storage behavior could reduce the millions of cases of FBD acquired domestically each year.
References
1. De Cesare, A., et al. (2017) "Impact of cooking procedures and storage practices at home on consumer exposure to listeria monocytogenes and salmonella due to the consumption of pork meat," Risk Analysis. doi: 10.1111/risa.12882.
2. Nesbitt, A., et al. (2014) "Baseline for consumer food safety knowledge and behaviour in Canada," Food Control 38 (pp.157–73).