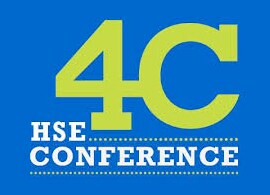 The 4C Health, Safety, and Environmental Conference may be one of the smaller events in the industry, but it brings together 300+ compliance professionals, industry leaders, prominent subject experts, policy shapers, and decision makers from 90+ refinery and petrochemical plants and service providers. The 4C mission, according to the show website, is to provide an environment where compliance professionals come together to collaborate and connect with peers, and contribute to industry compliance, (that's where the 4Cs come from). This show provides a venue to build a vibrant, interactive space for HSE professionals to learn from one another in order to contribute to the shared goals of safety, compliance and education.
There are plenty of educational opportunities available at the show, where attendees can take advantage of the 30 training courses and 80 breakout presentations that are being offered. The sessions cover everything from the basics to deep dives into advanced topics. It's a great opportunity to get your questions answered by experienced subject matter experts from nearly every field of expertise including: Air Permitting, BWON, LDAR, Flares, Best Management Practices, and more.
Make sure you attend the Wednesday, February 6 @ 1:00 PM presentation to learn about how Process Mass Spectrometry is a Fast and Effective Technique for Measuring Flare BTU and Increasingly Popular for Regulatory Compliance.
Besides attending the sessions, you can learn a lot about the latest trends and technology right on the exhibit floor. Thermo Fisher Scientific will be in Booth 109 discussing technology used to detect gas leaks from refineries and chemical plants, and how toxic vapor analyzers can quickly detect fugitive emissions of organic and inorganic compounds for Method 21 compliance, Leak Detection and Repair (LDAR) applications, and site remediation.
Leaking equipment, such as valves, pumps, and connectors, are a large source of emissions of volatile organic compounds (VOCs) and volatile hazardous air pollutants (VHAPs) which are a threat to our environment. The U.S. Environmental Protection Agency (EPA) offers a guide to LDAR best practices that is intended for regulated entities, such as petroleum refineries and chemical manufacturing facilities, as well as compliance inspectors. The guide details some of the problems identified with leak detection and repair (LDAR) programs. It focuses on Method 21 requirements, and describes the practices that can be used to increase the effectiveness of an LDAR program.
The EPA website explains that Method 21 – Determination of Volatile Organic Compound Links is applicable for the determination of VOC leaks from process equipment.
"These sources include, but are not limited to, valves, flanges and other connections, pumps and compressors, pressure relief devices, process drains, open-ended valves, pump and compressor seal system degassing vents, accumulator vessel vents, agitator seals, and access door seals. … A portable instrument is used to detect VOC leaks from individual sources. The instrument detector… must meet the specifications and performance criteria…."
The most advanced analyzers are equipped with a Flame Ionization Detector to measure organic compounds with high sensitivity. The FID technology allows for a wide dynamic and linear range that produces stable and repeatable responses. The analyzer can then be configured with both FID and PID technology for simultaneous detection and enhanced analytical capabilities. This dual configuration is capable of producing a more rapid reading of organic and inorganic compounds as opposed to a single detector technology and provides more comprehensive gas coverage than comparable size devices.
When you stop by our booth, ask about the newest technology for these toxic vapor analyzers that allows automatic and simultaneous calibration of multiple portable detectors.
If you want to take a break from the technical talk and explore some of Austin, the area is known for its music and is home to a wonderful ballet, world-class museums, one-of-a-kind shopping and beautiful outdoor spaces. You can check out this Visit Austin website to plan some things to do while you are in town.
We hope to see you at the show, but if you can't make it, follow the show activities on twitter @4CConference , or visit our Ambient Gas Monitoring web pages and learn about ambient air monitoring equipment that measures air quality, low and high levels of criteria pollutants, as well as other gases and toxins.
You can also sign up for our newsletter, Fast5 Tips and Tricks for gas analyzers and systems. Our technical and engineering staff share their product and application expertise in this digital publication. Each issue of Fast5 offers tips and tricks focused on a theme such as Ozone Season or NOx Monitoring. You will find information on everything from how to get ahead of probe leaks to when and how to rebuild pumps plus the latest products and technology updates. If you have an onsite challenge, chances are you will find the solution in one of our Fast5 issues.
Event details:
4C Environmental Conference
February 6-8, 2019
Booth 109
Hilton Austin
Follow the Conference Activities on twitter: @4CConference
Presentation:
Process Mass Spectrometry is a Fast and Effective Technique for Measuring Flare BTU and Increasingly Popular for Regulatory Compliance
Don Rodriguez and Robert Paddison
Wednesday, February 6 @ 1:00 PM