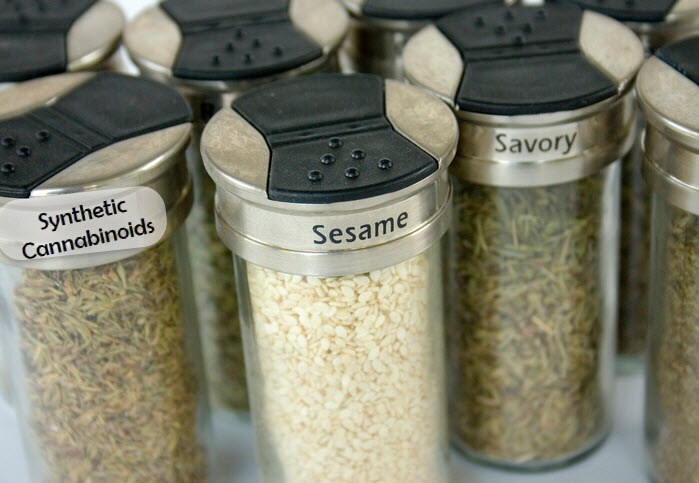 Before the opioid crisis and the threat of accidental exposure from carfentanil had many police officers, firefighters and EMTs on edge, synthetic cannabinoids, like Spice or K2, were the drugs named in the daily news. Spice or K2 are just two of the 500 or so street names given to a group of psychotropic herbal products that are a challenge to narcotics enforcement personnel. Although these substances may be labeled "not for human consumption," they are marketed to teenagers as marijuana substitutes and are available at a variety of convenience stores and retail outlets.
The problem? According to the Spice Addiction Support website, there are hundreds of known chemical variants of synthetic cannabinoids, the active ingredient in synthetic marijuana, Spice and K2. About 50 of these chemicals are regulated or outlawed in the United States, but manufacturers in other countries, like China, continue to produce new molecules every month in order to bypass existing laws. Because these manufacturers try to sidestep the laws by changing the chemical formulas in their mixtures, the resulting product is getting more and more unpredictable.
The National Institute on Drug Abuse defines synthetic cannabinoids as man-made mind-altering chemicals that are either sprayed on dried, shredded plant material so they can be smoked (herbal incense) or sold as liquids to be vaporized and inhaled in e-cigarettes (e-vaporizers), and other devices (liquid incense). The website states:
These chemicals are called cannabinoids because they are related to chemicals found in the marijuana plant. Because of this similarity, synthetic cannabinoids are sometimes misleadingly called "synthetic marijuana" (or "fake weed"), and they are often marketed as "safe," legal alternatives to that drug. In fact, they may affect the brain much more powerfully than marijuana; their actual effects can be unpredictable and, in some cases, severe or even life-threatening.
The chemically engineered compounds used to make synthetic cannabinoids are often shipped as bulk powder across borders and then sprayed on plant-based material. As we mentioned, these compounds can induce powerful—and unpredictable—results including extreme anxiety, paranoia, hallucinations, and even heart attack. Because there are so many chemical variants, no one really knows what they are getting, or how much they are getting of the substances, when they purchase these products.
There is presently technology available that can quickly identify the substance without coming in contact with it. This technology comes in the form of handheld narcotics analyzers, which many law enforcement agencies utilize in the field. Synthetic cannabinoids, as well as narcotics, stimulants, depressants, hallucinogens, analgesics, and synthetic opioids are easily identified using the instrument's lab-proven Raman spectroscopy, a well-established analytical technique that has been used in forensic laboratory analysis for decades.
The analyzer, which is about the size of a GPS, can identify key drugs of abuse as well as common cutting agents, precursors and emerging threats. One can scan directly through plastic or glass for most samples to minimize contamination, reduce exposure and preserve evidence. An officer can scan a single sample for multiple chemicals, and receive the results within seconds. (You can read about these and other reasons handheld Raman strengthens law enforcement for narcotics identification.)
Just because we are hearing stories about the opioid epidemic every day, don't be fooled into thinking the synthetic marijuana problems are over. Reports to Poison Control and emergency room visits continue. And in the hour since I've written this article, the Spice Addiction Support website was updated. There are now over 600 street names for Spice. The latest: Mojo, Black Mamba and Annihilation.