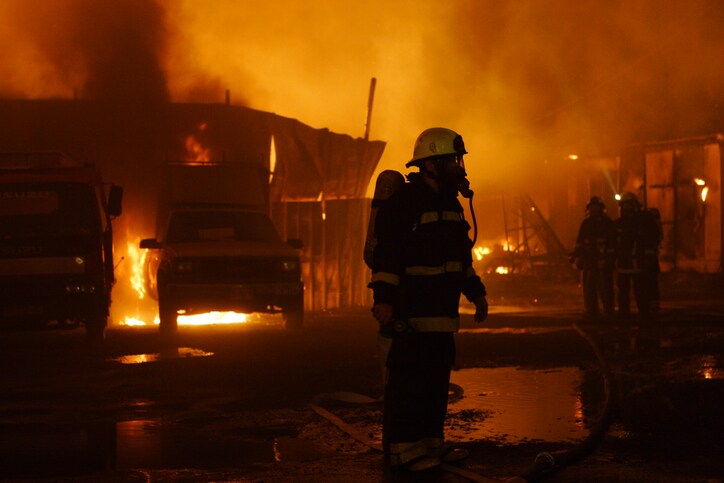 It was almost a year ago that the online news magazine, "Fire Apparatus & Emergency Equipment" published an article by our radiation expert, Scott Masiella. But the information is still applicable today. In the article, Equipping Fire and Hazmat Teams for Effective Radiation Response, Masiella explains that "in small towns and large cities alike, fire crews, hazmat teams, and other emergency personnel are often first on the scene where radiation could be present. Frequently, they are walking into extremely dangerous situations without knowing how much or what type of radiation is present."
Throughout the article, Masiella describes potential scenarios, the real risks involved, and the critical questions that must be answered quickly and reliably. The reader is asked to picture a waste disposal truck accident on a major highway or a fire that breaks out in an x-ray room of a hospital; could radiation be a serious problem faced by the first responders? Do the fire and police teams have the right equipment and sufficient protection? Are they being monitored for dose rates? Is the public at risk?
These are the questions that need to be raised and answered before an actual radiation event happens. The risks of being unprepared are too costly to public health. Masiella — who has nearly a decade of experience working with law enforcement and fire departments globally to solve radiological and nuclear detection and identification problems — recommends technology that can quickly and accurately detect radiation, tools to identify the source and type, and the creation and implementation of an effective response plan. "There are tools and technology available that is essential to safeguarding those front-line personnel and the public they protect," he said.
We've written about this in a previous article, Firefighters Face More Threats than Fire, and explained that firefighters must be prepared to fight more than just fire. Radiological material is used throughout the world for medical and industrial purposes. One of the most common threats is the unknown industrial source in an abandoned warehouse fire. Firefighters may also be called on to analyze and identify potentially explosive chemicals, unlabeled spilled material, or the contents of illegally dumped drums containing toxic chemicals.
Being able to quickly monitor, detect, and respond to a radiation threat is critical to public safety. Radiation detection and measurement tools are already available for emergency response situations as well as routine monitoring. There are personal spectroscopic radiation detectors that are ideal for contamination monitoring in radiation controlled areas, including accidents. There is technology available for rugged and reliable basic gamma dose rate survey meter for first responders whose job does not require location of hidden sources but may encounter high gamma dose rate environments. Multipurpose surface contamination detectors with configurable dose rate measurements are best for post-accident first responders to measure surface contamination or quick dose rate surveys, industrial and medical applications. There are also tools that combine technologies in one instrument for security and law enforcement personnel to detect illicit radiation as well as first responders to detect radiation contamination post-accident.
Fire and police personnel just need to be aware that protection can go wherever the accident or radiation event happens with the help of compact, portable radiation detection and identification instruments. If you are now thinking you might want to sit down and look at your radiation emergency plans, you can start by reading the articles and then this 5-Step Radiation Preparedness document.