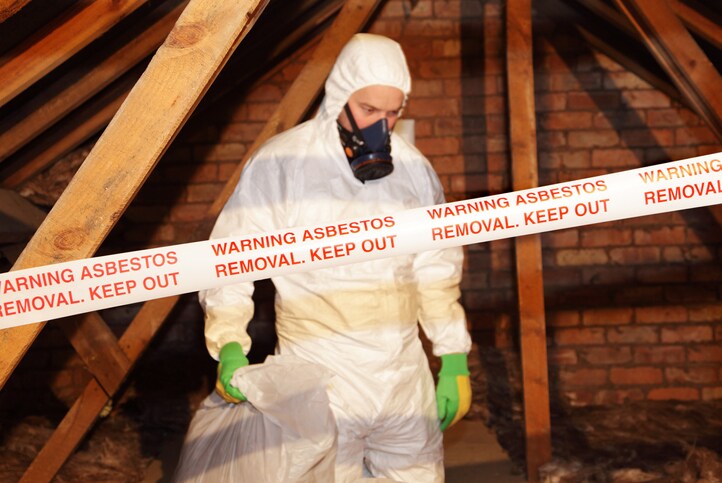 Asbestos is a group of silicate minerals that share the same fibrous nature:
Chrysotile
Crocidolite
Anthophyllite
Tremolite
Actinolite
Amosite
These six types of asbestos fibers are regulated because they are serious threats to one's health:
One of the most common types of asbestos-related health problems is pleural mesothelioma, a cancer that develops in the cells that form the outer lining of the lungs and inner lining of the chest cavities. According to The Mesothelioma Center, "Asbestos causes malignant pleural mesothelioma decades after a person inhales asbestos dust. The mineral's needle-like fibers lodge in the lungs and gradually migrate into the pleural lining. Over a long period of time, asbestos fibers cause irritation, chronic inflammation and genetic changes that turn cells cancerous."
Unfortunately, asbestos is an insulating and sound attenuating product that was used as pipe and ceiling insulation, sprayed-on fireproofing, and in a variety of other building construction materials. It can also be contained in flooring, roofing materials and some cement products. Although manufacturers in the US have largely phased out the use of asbestos, the health threat looms in US buildings built before the 1980s and in other geographic areas around the globe.
So, if workers are involved in building demolitions, there's a strong chance that they will encounter asbestos. That's the reason asbestos abatement, the safe removal of asbestos, is a major part of the demolition process. It is highly regulated and its safe handling and disposal is a major segment of the demolition market, and should be done by professionals. In many states, before demolition materials can be legally disposed of at a landfill, they must be certified asbestos-free or if they contain asbestos disposed of separately from the general landfill stream.
Detecting Asbestos
Handheld NIR asbestos analyzers can help prevent asbestos exposure on site by identifying asbestos fibres in a wide range of construction materials including tiles, flagstones, ceilings, heat insulation, braids, cords, coatings, cements and fibre cements, joint compound, adhesives, covers, boarding and other materials. (Near-Infrared (NIR) spectroscopy can be very useful in screening bulk material by penetrating much farther into a sample than mid infrared radiation with little or no sample.)
Detecting asbestos-containing materials (ACMs) in homes and commercial buildings prior to demolition or renovation is critical to prevent asbestos exposure. In the past, asbestos detection was limited to accredited lab based analysis such as polarized light microscopy, transmission electron microscopy and x-ray diffraction. Lab-based tests are costly and may require a 1 to 2 week lead time/turnaround time becoming even more expensive if a quick turnaround is required. Designed for expert and nontechnical users alike, handheld asbestos analyzers are self-contained and utilize the power of near-infrared spectroscopy to perform accurate on-site analysis in seconds. Field-based testing can reduce the time and cost associated with outsourced laboratory testing.
Identification of asbestos-containing materials is critical during renovation and demolition projects and the recycling of construction materials. Utilizing the latest NIR technology can help mitigate health threats related to asbestos for workers around the world.
Read about a waste management company that used handheld analyzers to help ensure that every load of material entering the facility is free from harmful elements, most notably asbestos.