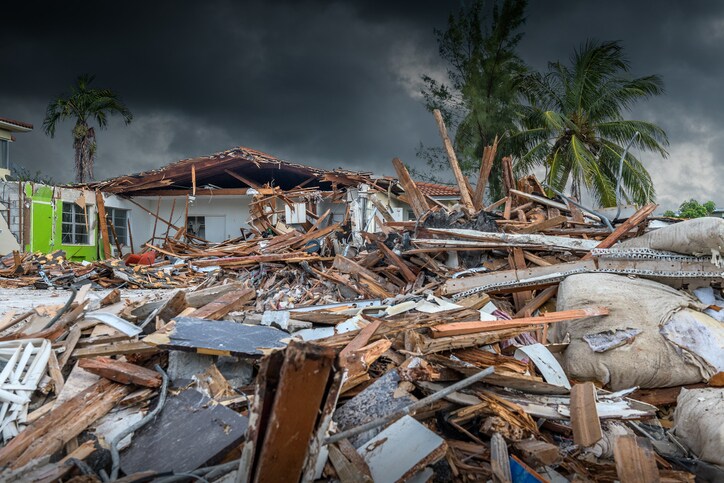 The warm days may feel good when you're lying on the beach or by the lake, but the summer weather also ushers in a season of possible disasters. According to the National Hurricane Center, the official hurricane season for the Atlantic Basin (the Atlantic Ocean, the Caribbean Sea, and the Gulf of Mexico) is from 1 June to 30 November.
The Office for Coastal Management reported that "Hurricane Florence, which made landfall in North Carolina, on September 14, 2018 and became one of the deadliest and costliest hurricanes to ever impact the Carolinas, caused at least 51 deaths and record flooding. Hurricane Michael made landfall in Florida on October 10, 2018, with sustained winds of 155 miles per hour. It was the most intense hurricane on record to make landfall along the Florida Panhandle, and caused at least 45 deaths—as well as widespread devastation—across the Panhandle, Georgia, the Carolinas, and Virginia."
These weather events themselves are immediately catastrophic for the people and communities that they destroy.  However, some of the damaged homes' debris can have long-lasting detrimental effects on the environment and on demolition workers' health if they contain asbestos.
The EPA has published guidance on disaster cleanup activities, including the collection and disposal of debris following hurricanes, and specifically mentions asbestos threats.
First, the EPA advises caution when re-entering damaged homes and buildings.  Among the precautions given, the EPA explicitly calls out the danger of asbestos exposure:
Use caution when disturbing building materials to prevent physical injury or other health effects. Building materials may contain hazardous materials such as asbestos that when carried by the air can be breathed in and cause adverse health effects. If you suspect asbestos-containing materials may be present, the materials should not be disturbed. Asbestos-containing materials can include the following:
boiler/pipe insulation
fireproofing
floor tiles
asbestos roofing
transite boards used in laboratory tabletops and in acoustics in auditoriums, music rooms and phone booths
….If you know or suspect that the building contains asbestos or lead-based paint and any of these materials have been damaged or will otherwise be disturbed during cleanup, seek the assistance of public health authorities and try to obtain help from specially trained contractors, if available.
Disposal of the demolition debris can also be problematic. According to the EPA website, various federal regulations may apply to portions of such debris, although some federal regulations such as the asbestos demolition NESHAP do not apply to debris from structures already demolished by natural disasters (as opposed to human demolition). The EPA recognizes that the extraordinary circumstances disaster survivors face in removing the debris, which may make full compliance difficult. However, good faith efforts should be made to segregate wastes prior to burning to help minimize the health, safety and environmental risks associated with burning hurricane debris.
Included on the EPA's list of materials that should be removed before burning the debris are asbestos-containing materials (asbestos shingles, siding and insulation). Unfortunately, asbestos – which is a group of silicate minerals that can cause serious health effects, including pleural mesothelioma, a cancer that develops in the cells that form the outer lining of the lungs and inner lining of the chest cavities – is an insulating and sound attenuating product that was used as pipe and ceiling insulation, sprayed-on fireproofing, and in a variety of other building construction materials.  As mentioned earlier, asbestos can also be contained in flooring, roofing materials, and some cement products.
Although manufacturers in the US have largely phased out the use of asbestos, the health threat looms in US buildings built before the 1980s and in other geographic areas around the globe.  So when older buildings are destroyed by natural disasters, it is more than likely that asbestos materials may be found in the debris.
The EPA has published guidance for demolition companies that includes who to notify, how to be protected from asbestos exposure during demolition, how to wet the structure to reduce the potential for air migration of asbestos, how to wrap and load the material for removal, how to notify the public that asbestos is being transported, and how to dispose of the material.  (Consult the EPA website for guidance.)
If the hurricane has reduced buildings to rubble, asbestos is still a threat.  Detecting asbestos-containing materials (ACMs) in debris prior to burning is critical to prevent asbestos exposure.
In general, the EPA recommends that burning be conducted by or under the supervision of trained local, state or federal officials or their designees at specifically designated sites in those counties designated as disaster areas. Burning must be done in accordance with all local, state and federal emergency orders. Emergency officials should be notified of the location of burn sites in advance.
How does one detect the asbestos, whether it is in the damaged buildings or in the debris?  Handheld NIR asbestos analyzers can identify asbestos fibres in a wide range of construction materials including tiles, flagstones, ceilings, heat insulation, braids, cords, coatings, cements and fibre cements, joint compound, adhesives, covers, boarding and other materials.  This technology can be utilized to help mitigate health threats related to asbestos.
In the past, asbestos detection was limited to accredited lab based analysis such as polarized light microscopy, transmission electron microscopy and x-ray diffraction. Lab-based tests are costly and may require a 1 to 2 week lead time/turnaround time becoming even more expensive if a quick turnaround is required. Designed for expert and nontechnical users alike, handheld asbestos analyzers are self-contained and utilize the power of near-infrared spectroscopy to perform accurate on-site analysis in seconds. Field-based testing can reduce the time and cost associated with outsourced laboratory testing and alert demolition workers to the presence of asbestos.
On-the-spot testing makes more sense than waiting for lab results, when hurricane debris must be removed so communities can start rebuilding.