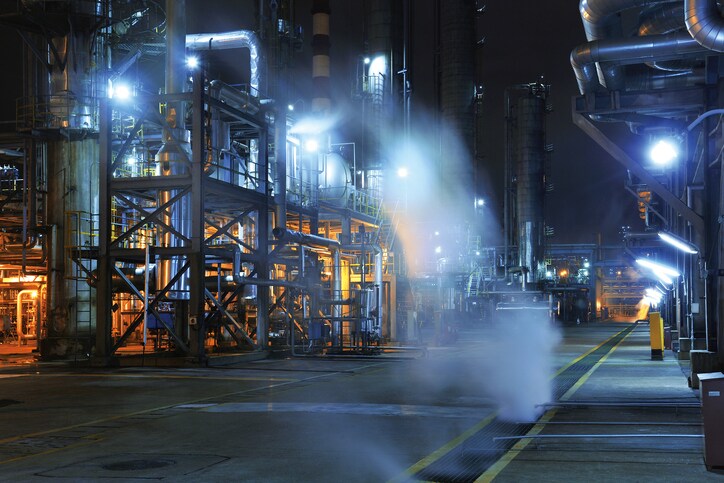 Last year, a gas leak at a central Scotland refinery caused the evacuation of 1,000 non-essential staff and the closure of local roads. Three workers were killed and six others injured during a suspected gas leak at a China-operated refinery.2 And more recently, a huge explosive gas leak caused tons of potentially deadly and explosive gases to pour out of a refinery in England. 3
It doesn't take an explosion, however, for toxic chemicals to pollute the air. Valves, flanges, nuts and bolts, pumps and compressors, pressure relief devices, process drains, vents, and seals can fail. These items, usually found on process equipment in refineries and chemical plants, can leak causing Volatile Organic Compounds (VOC) to leak out. These VOCs are a threat to the environment and to health.
The U.S. Environmental Protection Agency (EPA) regulates VOCs outdoors because of their ability to create photochemical smog under certain conditions, which impacts the formation of ozone.
According to the EPA," Ozone in the air we breathe can harm our health. Breathing ozone can trigger a variety of health problems including chest pain, coughing, throat irritation, and airway inflammation. It also can reduce lung function and harm lung tissue. Ozone can worsen bronchitis, emphysema, and asthma, leading to increased medical care….Ozone affects sensitive vegetation and ecosystems, including forests, parks, wildlife refuges and wilderness areas. In particular, ozone harms sensitive vegetation during the growing season."
To protect the public from these environmental threats, refineries and chemical plants must comply with U.S. EPA Method 21 under 40 CFR Part 60, and LDAR programs regarding detection of gas leaks. A VOC monitoring instrument meeting the following specifications is required:
6.1 The VOC instrument detector shall respond to the compounds being processed. Detector types that may meet this requirement include, but are not limited to, catalytic oxidation, flame ionization, infrared absorption, and photoionization.
6.2 The instrument shall be capable of measuring the leak definition concentration specified in the regulation.
6.3 The scale of the instrument meter shall be readable to ±2.5 percent of the specified leak definition concentration.
6.4 The instrument shall be equipped with an electrically driven pump to ensure that a sample is provided to the detector at a constant flow rate. The nominal sample flow rate, as measured at the sample probe tip, shall be 0.10 to 3.0 l/min (0.004 to 0.1 ft3 /min) when the probe is fitted with a glass wool plug or filter that may be used to prevent plugging of the instrument.
6.5 The instrument shall be equipped with a probe or probe extension or sampling not to exceed 6.4 mm (1/4in) in outside diameter, with a single end opening for admission of sample.
6.6 The instrument shall be intrinsically safe for operation in explosive atmospheres as defined by the National Electrical Code by the National Fire Prevention Association or other applicable regulatory code for operation in any explosive atmospheres that may be encountered in its use. The instrument shall, at a minimum, be intrinsically safe for Class 1, Division 1 conditions, and/or Class 2, Division 1 conditions, as appropriate, as defined by the example code. The instrument shall not be operated with any safety device, such as an exhaust flame arrestor, removed.
Toxic Vapor Analyzers are used to quickly detect fugitive emissions of organic and inorganic compounds for Method 21 compliance, LDAR applications and site remediation. They use flame ionization detector (FID) and photo ionization detector (PID) technology simultaneously for rapid response of a wider range of VOCs. They are also designed to provide environmental monitoring in the field and at the scene of an accident.
We previously wrote about how they were used in the immediate aftermath of a deadly collision between an oil tanker and a freight vessel which caused highly toxic gases. But refineries and chemical plants should have a regular monitoring schedule to check all the areas where toxic vapors could escape, and discover them before they do harm to the environment and public health.
Editor's Note: Here are links to learn more about the Toxic Vapor Analyzer in this product specification sheet and other Air Quality Analysis solutions
1 hazardex: Major gas leak causes evacuation of 1,000 staff at Grangemouth refinery in Scotland
2 Reuters: Three dead after suspected gas leak at PetroChina refinery
3 Grimsby Telegraph: Huge explosive gas leak at Lindsey Oil Refinery leads to £400,000 fine